TEAM NEWS | Saracens Women vs Exeter Chiefs (AP15s - Rd15)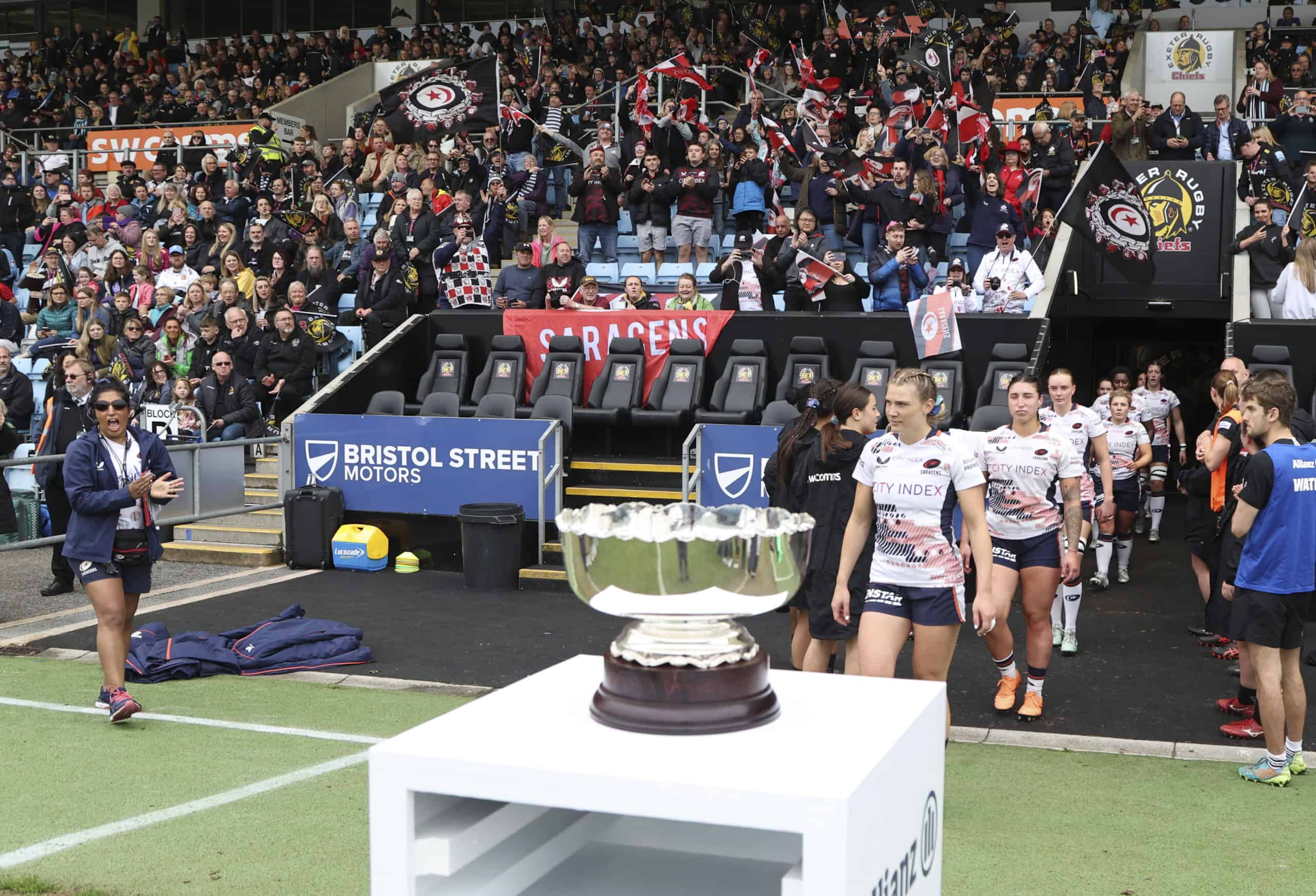 It's been a long time coming, but Saracens Women finally return to league action on Sunday, as they take on Exeter Chiefs at StoneX Stadium.
It will be the second time in as many matches that the two sides have met, following the recent Allianz Cup final at Sandy Park and Alex Austerberry's side will have revenge on their minds come kick-off on Sunday.
The personnel will be somewhat different this time though, with both sides able to call upon their Six Nations contingent for a match that will have huge ramifications for the final league standings.
One of those for Saracens is back row Georgia Evans. The Welsh international was a standout performer for her country, but explained that the focus is now fully on the Devonians, after being away for so long on international duty.
"We're all really excited. It's been great to be big together and Exeter is the big one. Getting ready for this one has been the main thing for all of us."
Saracens have been able to call upon some experienced heads for this one, as well as some returning faces, with Hannah Botterman poised to make her first appearance of the season. After a successful cup run for the club, Evans highlighted the strength in depth at Saracens as a crucial factor behind the side's recent form.
"We're under no illusions that the games coming up are the biggest of the season for us. We relied heavily on the strength in depth we've had over the last few months. Those of us coming back, there's no guarantee that we will start and that 's a real positive for us to have that competition for places."
Director of Rugby Alex Austerberry has been able to call upon a number of international stars for this one.
An all-Red Roses front row sees Hannah Botterman pack down alongside May Campbell and Kelsey Clifford.
In the second row, Louise McMillan returns from Scotland duty to join Catha Jacobs, whilst Evans starts in the back row alongside co-captain Marlie Packer at 8 and one of the finds of the season in Sharifa Kasolo at openside.
In the backs, Leanne Infante starts alongside Holly Aitchison at halfback, with Sarah Mckenna and Sydney Gregson renewing their centre partnership that proved to be so fruitful prior to the Six Nations break.
The back three is also a tried and tested league formula, with co-captain Lotte Clapp joined by Coreen Grant and Jess Breach.
There's bags of talent amongst the replacements too, with Jodie Rettie, Maya Montiel and Alex Ellis ready to add some grunt upfront.
Fi McIntosh and Grace Moore will provide the additional forward cover, with Ella Wyrwas, Flo Williams and Isla Alejandro named as the backs replacements.
There's a feeling that this is as big as it gets at the business end of the season and Evans called upon the Saracens fans to help push her side over the line.
"You can really feel it when we play at home. It's very cliche to say that they are the sixteenth player but it's also so true. They are just unbelievable and to have them with us is a huge motivating factor."
Saracens Women's Team vs Exeter Chiefs:
Hannah Botterman
May Campbell
Kelsey Clifford
Louise McMillan
Catha Jacobs
Georgia Evans
Sharifa Kasolo
Marlie Packer (cc)
Leanne Infante
Holly Aitchison
Lotte Clapp (cc)
Sarah McKenna
Sydney Gregson
Coreen Grant
Jess Breach
Replacements:
Jodie Rettie
Maya Montiel
Alex Ellis
Fi McIntosh
Grace Moore
Ella Wyrwas
Flo Williams
Isla Alejandro