Where Are They Now | Floyd Steadman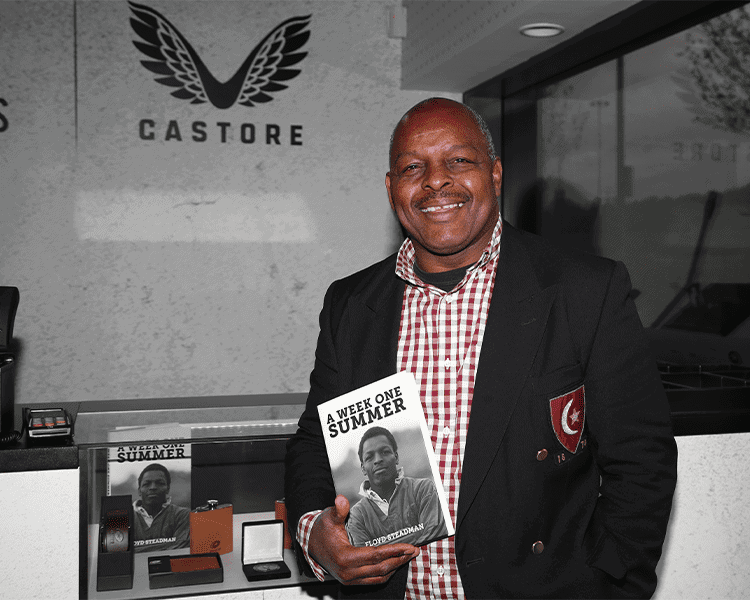 When it came to deciding where to move when he retired, one of the all-time Saracens greats couldn't have gone much further from the StoneX Stadium. In fact, Floyd Steadman chose a little Cornish village 320 miles from the new home of the club he played 469 times for during his career.
Ludgvan is situated in a Cornish rugby hot-spot, midway between St Ives and Penzance, and is nestled in a valley offering great views. It takes almost six hours by car, or just over five hours by train, to reach London, but it is now very much home turf for the former Saracens skipper.
"I ended up in Cornwall because my wife, Denise, and I had always planned to move to somewhere in the west country when we retired. She died from cancer a few years ago and had family in Cornwall," said Floyd.
"She had been one of 11 children, while I had run away from home and lived my early life in care. We had three sons, who are all doing well in and around London, but I've been able to embed myself in Cornwall surrounded by Denise's family."
His other 'family' has always been Saracens. He played for, fought for, captained and inspired the club he first joined after leaving Borough Road College. It has always been his club and will remain so above all others.
"My sons played at Ealing Trailfinders and they asked me to join their committee. It has been the same down here in Cornwall, but if I was ever going to work with a rugby club it would only been Saracens," he added.
In many ways he has already done a huge service to the club. As well as those 469 games, he was captain of the side that went into the final round of the Courage National Division 1 season in 1989-90 as one of three teams with a chance to finish on top of the table.
Gloucester led with 17 points (it was two points for a win in those days and no bonus-points); Wasps were second with 16 and Saracens were third with 15. In the end, Nottingham beat Gloucester 12-3 and Wasps won the title thanks to their 24-6 home triumph over Sarries.
Steadman had led Saracens back into the top flight the previous season and left on a high note with his side ultimately finishing fourth, just behind Bath. It was very much the end of an era.
He coached the U21 team for a while, including bringing through Tony Diprose and Richard Hill, and then threw himself headlong into a glittering career as a schoolteacher and headmaster. In those influential and inspirational roles he left an early imprint on one of the modern-day Saracens greats, Maro Itoje.
So much so, in fact, that Maro penned one of the forewords to Floyd's new book, "A Week One Summer". The two first met when Floyd was headmaster at Salcombe prep school in the London suburb of Southgate.
"I paid little attention to rugby until Mr Steadman suggested I play, but I followed his advice. I began playing when I attended St George's School and then went with a classmate to Harpenden Rugby Club," recalled Maro.
"Mr Steadman rarely mentioned that he had played for Saracens at such a high level. His love of rugby and Saracens always came through when he spoke about me playing and it is good to see him when he comes and watches us play."
Even now, from one of the greatest rugby players in the world, it is always 'Hello Mr Steadman' from the big man when they meet. So many of his former pupils over a working lifetime in the education sector react to him in a similar fashion.
Having started at Edgware School, in north London, he became the first black teacher at St Paul's School. It was then he taught the future Oscar winning actor, Eddie Redmayne.
Redmayne described him as "a really influential and important figure in my life . . .
an extraordinarily noble man and someone that you aspired to be." He went on to become the country's second black headteacher in the independent sector at Salcome Prep School.
There were other stints in the head's role at Downsend School, Clifton Lodge School and Cumnor House School. He ended his time in teaching in March, 2020, after a near three year stint as the Executive Head at Clifton Lodge.
Aged 63, he hasn't quit work altogether. He has swapped school life for consultancy, working up to five days month for Anthony Millard Consulting Limited, a company that specialises in the search for and recruitment of educational leaders and provides advice on all strategic aspects.
"I love what I do and I hope I can continue to make a difference. I suffered racial abuse when I was playing, and throughout many periods of my life, and I'm dedicated to trying to change people's perceptions and attitudes," he added.
"I think I was probably the first black scrum half to play at the top flight in English rugby and the first black captain at a leading club. Saracens were incredibly brave to appoint me as their captain when I was 23 – they gave me the chance to shine and I've always been thankful for the opportunities they gave me.
"I played with some great players, met some fantastic people and thoroughly enjoyed my career at the club. I played for Middlesex and the Barbarians and went on tours all over the place."
A member of the Saracens Hall of Fame, and a Vice President for more than 20 years, he still loves coming to the StoneX Stadium to watch 'my club'.
And what he'd love even more is for every player who lined-up alongside him in his 469 games to get their wives, partners, children and grandchildren to ask for the perfect Christmas gift this year – a copy of his book, available at most good book shops, via Amazon and at the StoneX Stadium shop, and a steal at £11.99!