Corrigan and Ellis march on into semi-finals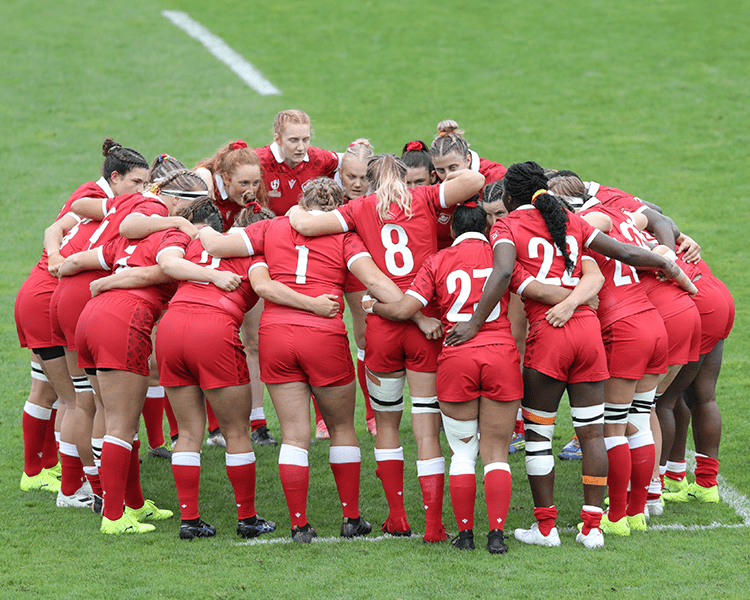 For the second week in a row, it was Canada who came out on top in their North American clash, as they secured a 32-11 victory over the USA, to set up a semi-final with England next weekend.
Whilst the score line was comprehensive again for Canada, this was a full-blooded contest with both sides separated by less than a score for large parts of the match.
Saracens' Alysha Corrigan started at outside centre for the Canadians, with Alex Ellis on the bench, whilst Lotte Clapp again started on the left wing for the USA.
Several former Saracens put in stand-out performances as well, with Canadian captain Sophie de Goede slotting three conversions and two penalties from number 8, whilst Alev Kelter continued to keep her side in the hunt through the boot.
Corrigan and Ellis made eight and seven tackles respectively for their side, with Corrigan also making twenty-one metres with ball in hand.
Clapp played her part on the wing too for the USA, as they stemmed the Canadian tide for as long as they could.
With thirty minutes left on the clock, the Americans trailed by eight, before the Canadians pulled clear in the final quarter.
Speaking at full-time, Canadian Head Coach Kevin Rouet was pleased with how his side handled the conditions, as they weathered the American storm on the field and the one in the skies, as torrential rain fell throughout the afternoon.
"I'm very pleased with the performance and proud of the effort from the players. We managed the weather well, scored some good tries and proved we belong in that top-four and our focus is now on England on Saturday."
For the USA, Head Coach Rob Cain admitted that his side didn't control the kicking game, which ultimately allowed the Canadians to pull clear.
"I'm so proud of the players' efforts, they really tried to, but you know when the ball is greasy and you don't win those kick-chase battles, unfortunately that's going to happen."