FEATURE INTERVIEW | Jackson Wray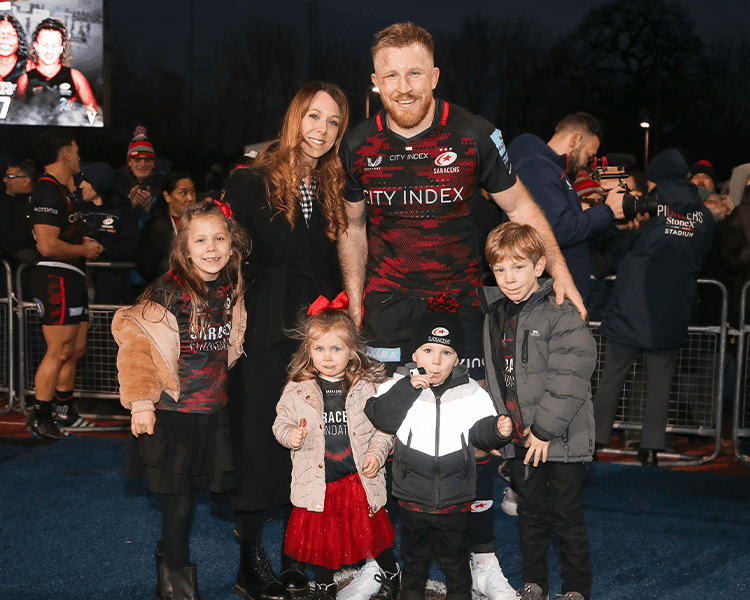 Jackson Wray's 300
th
 game for Saracens was like no other. Yes, it was a Gallagher Premiership fixture at his home ground.
But instead of just running out with his 14 teammates, the back row dynamo took to the field holding the hands of his four children.
Joining 'Daddy' was daughter Harper (8) and Blake (3), as well as sons Colby (6) and Hudson (3). Colby and Hudson are twins and overseeing everything  was their mum, Leanne. 
Jackson joined a very exclusive club at the only club he has ever played for. Alex Goode, Kris Chesney, Kevin Sorrell and John Buckton head an impressive roll of honour and he is the fifth player to reach that landmark. 
It is quite a story. From Westcliff RFC, through King John School in Essex, on to Oaklands College with Owen Farrell, to Barking RFC and Bedford Blues, he learned his trade before making his Saracens debut against Scarlets while still only 18. 
He's won caps for England at U16 level and then went on to do the same at U20. He came into the Saracens system as a teenager and has developed into one of the club's all-time greats. He may not have been able to add a senior England cap to his collection of international honours, but he does have four Premiership winners' medals and three Heineken Champions Cup ones as well. 
"It feels like only yesterday that I made my debut. So much has gone on since then and I will feel very proud running on to play my 300th game for the club," said Jackson. 
"Eddie Jones was the coach when I made my debut and he always kept his eye on the players in the academy. To think I'm still playing with Owen and Alex Goode at the same club 15 years on speaks volumes about the way we have been treated by, and how we feel about, this great club. 
"We've known each other since we were very young teenagers, when my mum Diane, used to drive me deepest, darkest Essex to the club for midweek training sessions every week. It was a 100 mile round trip, but she made sure I never missed. 
"Without her selfless commitment I might not have made the grade. What it did for me was give me a chance and instill in me a proper work ethic.  
"I grew up at the club with other players such as Mako Vunipola and George Kruis. We've always felt proud every time we run out to play for the club because of its values, what it gives to its community and the chances it has given to all of us as players. 
"I might be reaching 300 games, but all I want to do is carry on. My contract is up this summer, so we'll have to see what is possible. 
"I've always had to fight for my place because there have been so many amazing back row players in the squad. Competition drives stands and I'm proud of how many finals in which I was given the chance to start." 
Mark McCall has been at the club for the majority of Wray's career and has backed him to the hilt. He stayed to help the club battle their way back into the Premiership after relegation to the Championship and has been 'Mr Reliable' throughout his career. 
"Jackson is the sort of glue player that every club needs, over a long period of time. I think he typifies all the qualities and characteristics that we crave and prize at the club," said McCall.   
"He's not only been a phenomenal player for us, but also a phenomenal person. To get to 300 caps is incredible and don't forget he's played in six Premiership finals and four European Cup finals. 
"When he was 18-19 you wouldn't have had money on Jackson being the one who would get to 300 games. But he has stuck at his game and been open enough to improve. He has had the work ethic to do as much as he could to improve, and he's squeezed everything out of himself and his career. 
"There was a point in time when it was very hard to make our 1st XV, in the 2015-19 period, yet Jackson started most of the finals in that period. That says he must have been playing some great rugby. 
"There have been lots of players down the years who have been underappreciated. Jackson may be one of those outside our club, but definitely not within our four walls. All the staff members and players who have been here for such a long time all know what he brings."