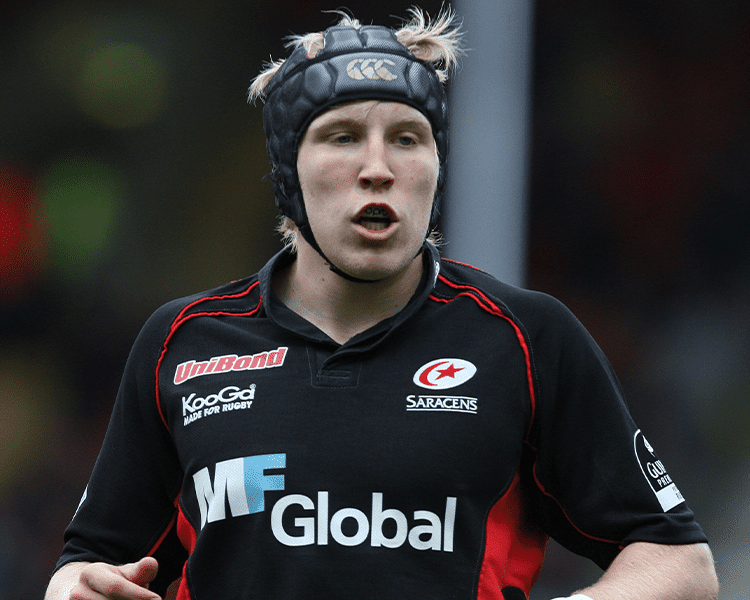 The ever-popular Jackson Wray made his 300th appearance for the Men in Black at the weekend.
He has been with the club as man and boy and has a host of medals in his trophy cabinet.  We sat down with him to look back at his debut 15 years ago!
EDF Energy Anglo Welsh Cup – SARACENS 17 – SCARLETS 26, 5 October, 2008 at Vicarage Road (6,191) 
I was still at Oaklands College as part of the Saracens Academy when I made my debut. It was still 17 at the time and was picked on the bench to play at Vicarage Road. I got on in the 57th minute to play in place of Andy Saull and I have to say the 23 minutes I had went in the blink of an eye. All of a sudden, I found myself playing against the likes of Irish and British & Irish Lions flanker Simon Easterby, All Black s in lock Simon Maling and prop Kees Meeuws, as well as Aussie No 8 David Lyons. It certainly was a big step up, but I loved every second of it. I walked into the dressing room with Alex Goode, Owen Farrell and Noah Cato, who were all in the academy with, and I ended up playing some time with them all during the final quarter. It is amazing to think I'm still playing alongside Alex and Owen to this very day. I guess I'd have to admit that I was a bit overawed by the whole occasion, but it got easier as I picked up more games. I was very light at the time and not particularly well developed. It was a game that showed I had a lot of work still to do. It wasn't as though I had 'arrived', more look how far you've still got to go! I loved playing alongside one of the legendary figures of that time at Saracens, Kris Chesney, and it was great coming on to join a back row that included Don Barrell and Ben Skirving. It was a midweek fixture and so it was back to school the next day. It has been an honour, a pleasure and a privilege to pull on the shirt.