Campbell Overjoyed as she hits 100 not out in Saracens colours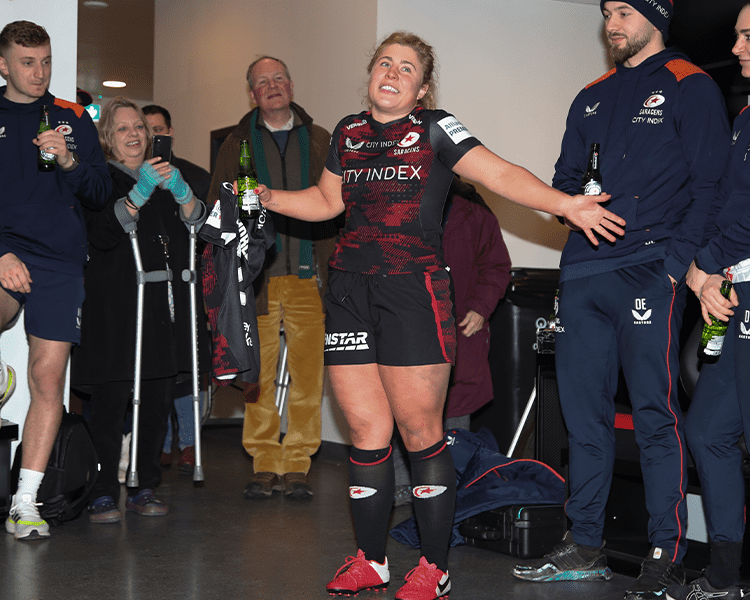 Hooker May Campbell couldn't help but smile when reflecting on her 100th game for the club.
After leading her side out onto the field ahead of the game, Campbell helped her side to an impressive 10-try victory over a dogged Worcester side that just wouldn't give in.
Despite her parents being unable to make it to the match, Campbell was roared on by a huge group of her family and friends.
"It was incredibly special. Sadly, my parents were in New Zealand visiting my brother. But they sent in the reinforcements with my granny and godparents as well."
Campbell arrived in the changing room to find that teammate Marlie Packer had left balloons with '100' on them by her shirt, adding to the occasion, with Campbell also highlighting just how much of a memorable day her teammates and coaching staff had helped it to be.
"All the messages I had wishing me good luck before the game made it incredibly special.  Even before, the speech that Chipi (Juan Figallo) gave, gave me goosebumps."
Campbell was as industrious as ever on the field, scoring her eighth league try of the season and fourteenth in all competitions! Despite joking the Poppy Cleall would have preferred Campbell to leave the ball for someone else to score, the hooker was quick to highlight the work of everyone around her, in helping her get on the scoresheet.
"I think Poppy was pretty cross with me doing that! But it's always a team try and the offloads we managed to get on the gain line were important. They are always team tries, so I can't really take the credit that much."
After the match, Campbell was greeted with loud cheers from her teammates as she returned to the changing room, where Director of Rugby Alex Austerberry presented her with a shirt adorned with her name on the back and the date and fixture of her 100th appearance on the front. Following the loudest Tiki Tonga of the season, with Kelsey Clifford joining Campbell in the middle following her 50th game for the club, Campbell paid tribute to the club for creating an occasion that she would not forget in a hurry.
"The club made the day what it was. To have the shirt presentation afterwards and to be standing in the middle of Tiki Tonga was just amazing. I'll never forget the day."