MATCH REACTION | Alex Austerberry (AP15s – Rd9)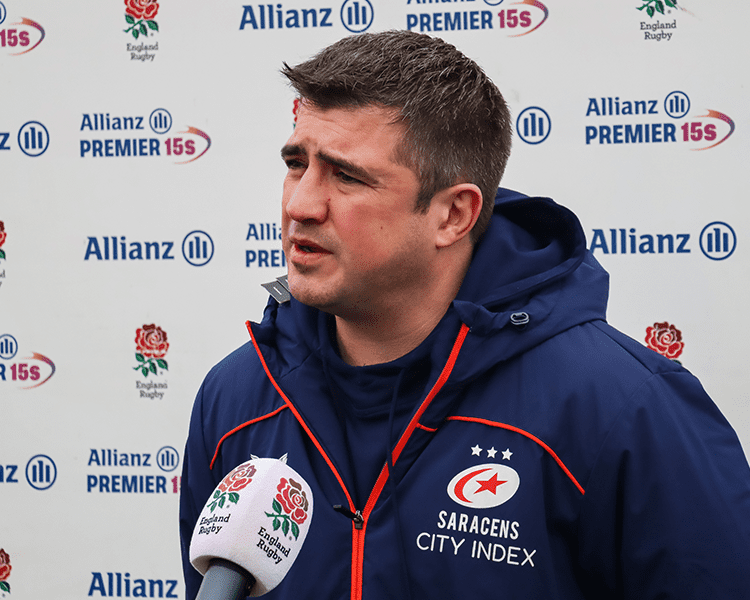 Director of Rugy Alex Austerberry was left feeling "proud," as his side turned in a clinical performance to tame Bristol Bears at Shaftesbury Park.
Saracens scored five tries in all and Austerberry felt that his side gave a true reflection of their talent on an impressive afternoon.
"Today, the character stuff; that gritty stuff, was far better. That allowed some of the quality rugby to shine. It's a very difficult place to come against a good side. I don't think the score quite reflects how tight it was. It was a battle throughout, so to come away with the bonus point win is absolutely fantastic."
Having had to withstand a barrage of pressure from Bristol in the opening exchanges, Austerberry was pleased with how his side had learnt from being under the pump in previous games this season, but felt that they could still improve.
"We've talked about understanding when momentum is against you in games. Even today, we still gave away a yellow card. It's about working out how you can take your medicine and get out of there in a smart way. After the first ten minutes, I thought we started doing that in a much better way. That allowed us to go down into their 22 and come away with something. It's really pleasing that we've developed that there."
Having trailed the Bears thanks to a Rownita Marston score, Saracens hit back with a superb try from Jess Breach. Austerberry laughed when admitting that "it's nice when things you practice actually work," as he praised the composure of Breach and flyhalf Zoe Harrison.
"The calmness and the confidence came from knowing when to run those moves and where. Then, the execution was brilliant. You can do it as many times as you want in training but to actually do it in a match with a live defence coming at you is testament to the work and quality."
The highlight of the match though was a stunning drop goal from Sarah McKenna and Austerberry explained that his centre had been mentioning to him about the opportunity to take a shot at the posts from a goal-line restart several times in the last few weeks.
"She watches a lot of rugby, and she's bought it to my attention a few times! To score from that range, that's probably what is the most impressive thing. It was a great moment in terms of seeing it, but also executing it. Then, with the drama of it bouncing off the crossbar as well, it was just fantastic!"
After a somewhat stop-start first period of the season, the performance in Bristol felt like a hugely positive step in the right direction, with Austerberry admitting that his side felt that they have slipped below their own high standards prior to the match.
"At times this season, we've fallen away from the way we want to play. We're a physical side who want to impose themselves. The performances that haven't been up to it have been when we haven't won those collisions," he explained.
"It's the fundamental of everything we do; the speed, that energy and that work-rate. On the rugby field, you have to make sure that you're ready for everything and meet fire with fire."