FEATURE INTERVIEW | THEO DAN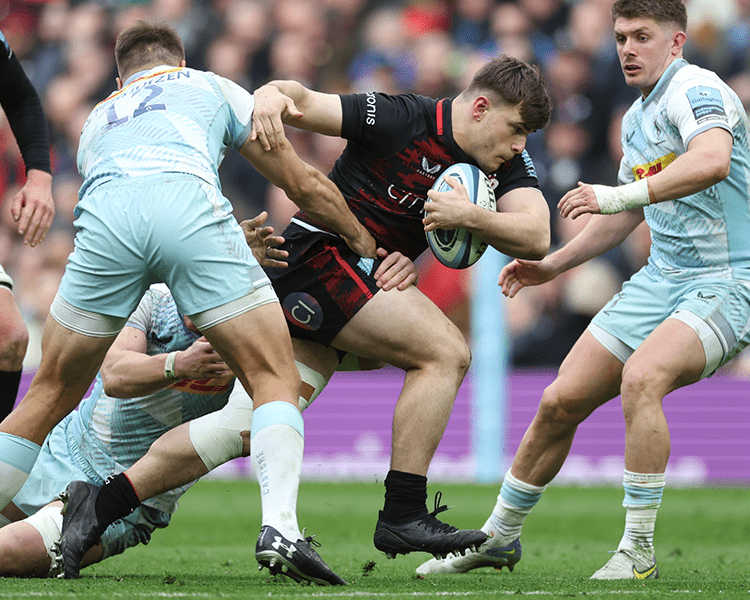 As far as breakthrough seasons go, it has been a pretty good one for Theo Dan. The former centre/winger has proved you can successfully convert a life of luxury in the back line to the rough and tumble of the front row.
Having made his Premiership debut as a replacement in last season's 54-7 defeat at Kingsholm against Gloucester – Sarries had already bagged a semi-final berth by then– he may have wondered what he had stepped up to.
This season, though, has been a different story. He got his first taste of Heineken Champions Cup rugby with 13 minutes off the bench in the games against Lyon and Edinburgh, and has played 13 times in the Premiership and started six games.
More importantly, he has made a big impression and contribution over the course of the season with four tries, 99 carries and seven clean breaks in the Premiership. Five of the six games he started ended in wins, with only the away game at Sale Sharks (35-24) blotting his otherwise perfect record.
His rugby journey began in the mini and junior ranks at Blackheath and he entered the Saracens academy at 16 as a wannabee Brad Barritt or Sean Maitland. Some persuasive coaches offered him the chance to switch to hooker and the rest, as they say, is history.
A loan spell at Bishop's Stortford helped him to learn his new trade before two years in the Championship honed his skills. He developed quickly enough to be capped by England U20 and now his sights are firmly set on bigger things, once he can further establish himself with the 'Men in Black'.
"This has been a god season for me, stepping out of the senior academy after three years and into the first-team squad. I've had some good game time, regular rugby and I've learned a hell of a lot," said the 22-year-old Dan.
"It took a lot of hard work to get to this stage in my career and now I just want to push on and try to become a regular in the matchday squad. It is incredibly competitive, but that's what drives on all of us.
"The goal now is to push for a place in the semi-final, and hopefully, final squad."
Plenty of back row forwards have switched to the front row, but the only big example of a three-quarter becoming a successful hooker is Leicester Tigers, England and British & Irish Lions star Tom Youngs. Now Dan is pushing hard to follow not only the lead of Youngs, but also Saracens first-choice hooker, Jamie George.
"Jamie had to work hard to get where he is and he is an inspiration for all the young hookers behind him at the club," he added.
"There's a lot of work that goes unnoticed and he's been brilliant in telling me about his experiences both at Saracens and his development at my sort of age. He also spent time in the National Leagues and knows what it takes to come through the ranks.
"When I first made the switch to the front row, I wondered what on earth I was doing when I packed down in my first scrum. I just thought, this is the last place I want to putting my head.
"It took a while to literally grow into the position, but also to learn the technical aspects of scrummaging and line-out throwing. The stuff around the field was easy enough because I'd been used to that as a large and slow centre.
"I'm loving it all now and it is so exciting being a part of  the senior squad and trying to do all I can to help bring home the Premiership title."
Having picked up some England honours at U20 level, the international goal is obviously to follow in the footsteps of George and make the full England side. But Dan also has another string to his bow on that front.
Although born in England, Dan's heritage lies in Romania. Both parents are Romanian and his love of rugby was fostered by his grandfather, Ion Dijmarescu, who played in the Romanian First Division.
"I've got proud Romanian heritage and go there whenever I can, so if for any reason playing for England doesn't work out for me in future, Romania is my back-up plan and I'd be very proud to do that," he said.