I feel like part of the family already - Mallard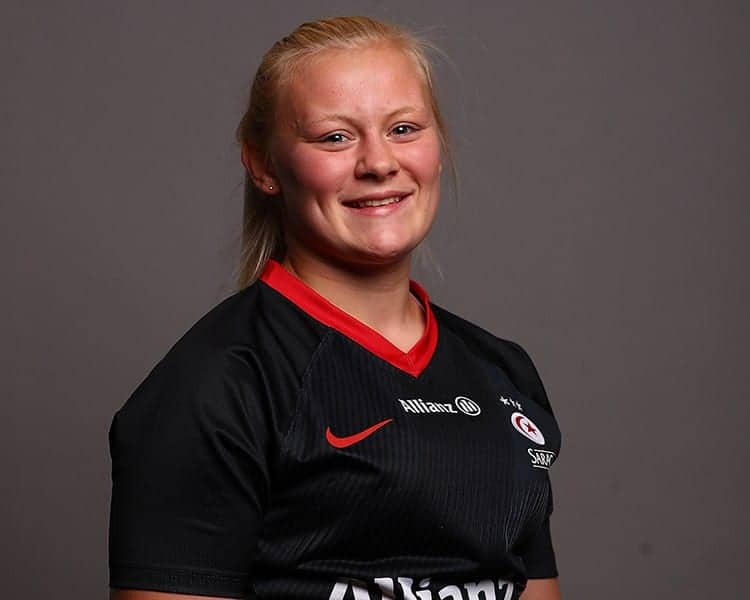 Jodie Mallard was one of a host of new signings for Saracens Women over the summer.
The young scrum-half joined the north London outfit from Loughborough Lightning and despite being one of the youngest players in the squad, she immediately threw herself into pre-season.
However, as with anyone that comes into a new environment, there is always an adjustment period.
"I found these last few months really challenging, coming into a new environment with some of the best players in the country but it's a good challenge.
"It's really difficult and I know I have a lot of competition to get to where I want to be but it's actually driving me to be a better player and I can already see what I need to work on.
"I can see an improvement already and it's just good to be mixing with the girls who are here because they just push you to do better than what you already do."
However, it's not all be plain sailing for the England U20 international, with a knock picked up in pre-season meaning she has missed out on the opening rounds of the Tyrrells Premier 15s.
Fortunately, she has been able to call on support from the Saracens S&C and medical staff to get her back to full fitness.
"I picked up a little niggle through pre-season, so that's been a bit of a negative, but it's made me realise how good the support network is with S&C and physio.
"All of the girls have been really welcoming"
"They are all putting their heads together trying to think of what's best for me, how I can recover fastest and come back stronger as well.
"They're not rushing me to get back into it, they're taking their time. They don't want to throw me in the deep end and get injured again, so they're looking at the bigger picture and the long run of where I want to be."
With the Lightning Rugby franchise being based at Loughborough University, the players there have the opportunity to tap into a world-renowned sporting setup, used not only by university teams, but by elite domestic and international athletes too.
Yet for Mallard the big difference for her has been around the culture and camaraderie between players, and fitting in with a new group.
"With Saracens I feel I can relate a lot more with the girls because a lot of them have to travel in as well. Something I always struggled with was having to travel and the pressure of getting to training and stuff.
"At Loughborough a lot of them lived there and had their friendship groups and I personally found it quite difficult to involve myself with a group.
"They were lovely girls and I can't really fault them. I think it was more me and confidence wise going in and making myself known. Saracens has been really great; all of the girls have been really welcoming. I feel like part of the family already."
This season is also one of change within the group of scrum-halves at the club. With the retirement of Georgie Gulliver and departure of Emma Swords, this season has seen Eloise Hayward and Jade Knight switch between the starting nine jersey in the opening two rounds of the TP15s.
Mallard sees any competition for places as a good thing, knowing that the group of scrum-halves all get on well away from the pitch while also being driven to succeed for the club and as individuals.
"I'm the youngest scrum-half here and I used to think that way at Loughborough but here at Saracens I don't.
"Me and the other girls get on really well and we all want that success and for Saracens to do well but we also want to be in that shirt.
"But that's a good thing, we're all driving each other all the time. When we were doing our fitness testing, me and Eloise would often go together because we try and push each other to do better every single time and it's working really well.
"We're a team at the end of the day, as long as we're all putting the same effort into our games then there's not much more you can ask for."

PRESS NOTES | Alex Austerberry (PWR Rd-3)
Director of Rugby Alex Austerberry is expecting a full-blooded encounter as his side make the trip to face Harlequins Women this weekend. Saracens Women have started the campaign with two bonus point victories and the DoR explained that he had been really pleased with a large portion of what he'd seen from his side. "It's […]

CLUB STATEMENT | Owen Farrell
Owen Farrell has decided to take a break from international rugby in order to prioritise his and his family's mental well-being. This means he will not be available for selection for the 2024 Six Nations. He will continue to play for Saracens and captain the club. As always, Owen will have the full support […]
Andy Christie nominated for Gallagher Player of the Month
Andy Christie has been rewarded for his brilliant form by being nominated for the Gallagher Player of the Month Award. The following four players have been shortlisted: Andy Christie (Saracens) Tyrone Green (Harlequins) Ollie Lawrence (Bath Rugby) Arron Reed (Sale Sharks) To cast your vote for Gallagher Player of the Month, click here: The shortlist was […]