MATCH REACTION | Alex Austerberry (AC Semi-Final)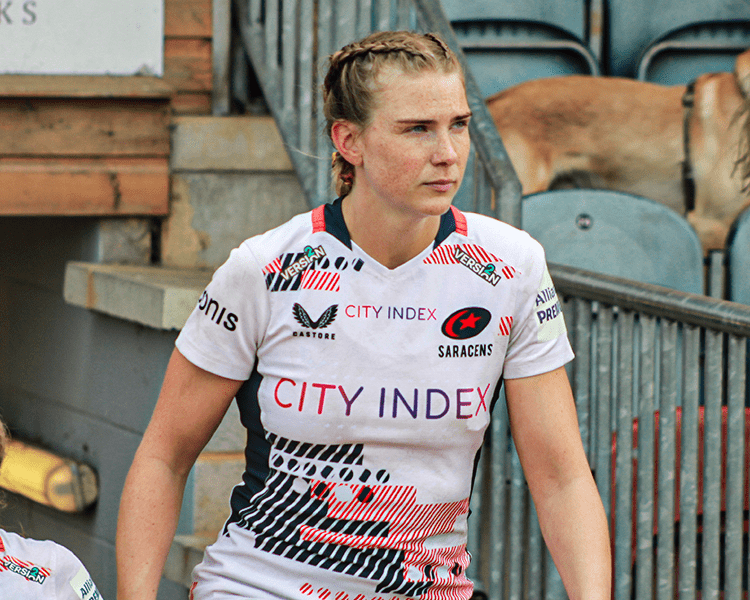 Director of Rugby Alex Austerberry praised the resilience of his side, as they edged a nailbiter against Gloucester-Hartpury to book a spot in next weekend's Allianz Cup final.
"It's fantastic. It's a long time since we've played together, and we always knew that coming here against a very good side was going to be a test. It certainly was that for all 80 minutes and we had to find a way to establish ourselves."
In a topsy-turvy match, Saracens ultimately secured victory thanks to a 78th minute Lotte Clapp try. But they were still made to sweat, as a last-gasp Emma Sing penalty drifted wide of the posts.
Reflecting on the match, Austerberry praised the work of his pack, as they set the foundations for victory.
"I have to credit the pack; it was a really dominant set-piece display and there were some impressive performances around the park. Ultimately, knockout rugby is about winning and making sure you're in the next round. We found a way right at the death. It was a matter of inches, but those are the fine margins when two good sides are playing against one another. Thankfully, it came out on our side in the end."
This was a result based upon the work-rate upfront, with Austerberry admitting that without the efforts of his forwards, the result could have been different.
"It was a fight in the scrums throughout, until we finally managed to get that platform with the lineout and the maul. Credit to Gloucester, at points we thought we had them upfront, but they stayed in the fight, and we had to go again. The pack worked their socks off and that's a big reason why we're in the final next weekend."
The cup competition is all about developing young talent and Austerberry took the time to praise the work of young fullback Katie Johnson, as he admitted that he had had one eye on the future throughout the cup campaign.
"Katie Johnson in the backfield was up against an incredible back three and a high-quality backline who prodded and poked, but she did some really good bits. I though in the second half, the midfield came to the fore a bit more and Lucy Biggs was there too in those pressure moments. It's not just about making sure we're ready for finals, it's also about making sure that the next generation of Saracens players are getting those minutes so they're ready. They need to be playing in tough games and they don't come any tougher than this one, coming away to one of the best teams in the league."
Saracens know that they will face one of Exeter or Bristol in next Sunday's final and Austerberry has challenged his side to focus on how they can manipulate space in attack, heading into the tie.
"We were far from perfect, but the growth of the group is a huge bonus. We need to look at how we find the space we want to use earlier. It took us too long to understand where the space was and be effective against the defence. The speed of support could be better too.
At times, whilst we had the intent to play, we overplayed slightly, and we need to learn when it's on to play those types of attacking sets."
Despite the points of improvement ahead of next weekend's match, Austerberry took accepted that after matches like this one, it's about celebrating the victories.
"It's always easy to pick out the things to work on, but we've got to sit back and realise that it's a long time since we've played together. We knew it wasn't going to be perfect, but we couldn't have done any more than leave with the result we have."