MATCH REPORT | Saracens Mavericks 51-63 Surrey Storm (NSL Rd 13)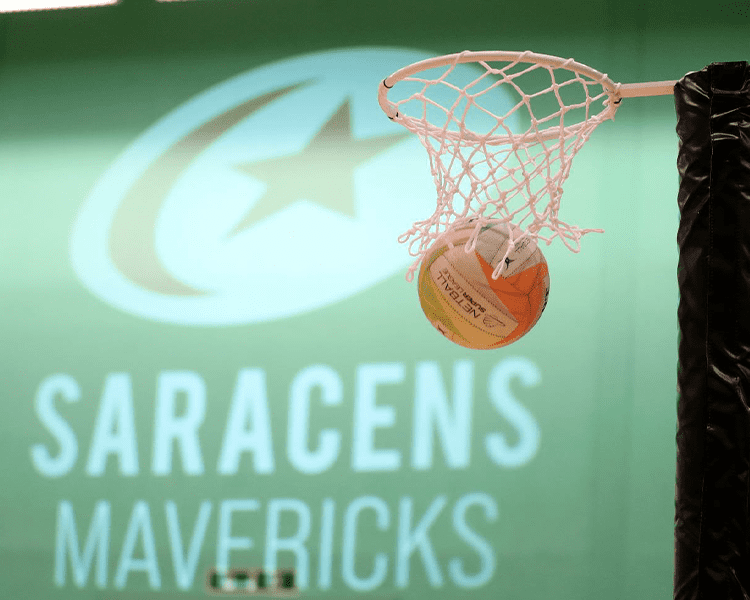 There were momments of exhibition netball at HSV, but Saracens Mavericks were unable to reward the sell-out crowd with victory over Surrey Storm, as the visitors managed to keep them at arms length.
Energised by a recent victory and a vocal home crowd the Black and Reds started this contest with a bang, playing fast, full-court netball that challenged their top-4 opponents.  However, Storm gained a foothold in the second quarter which they were able to further exploit in the third. Mavericks rotated their squad to good effect but a close final 15 wasn't enough to catch the Duck Egg Blue.
Mavericks stuck with the same seven who had started in their nail-biting win over Leeds Rhinos in Round 12. After an end-to-end start the Black and Reds gained a two-goal advantage over the visitors, but Mikki Austin's side found a way back on top to go into the first break with a narrow lead.
The visitors stretched their lead in Quarter 2 but Camilla Buchanan's side battled hard to keep the Surrey side within reach, going into the break with a mere five goal deficit.
Ellie Kelk took to the court at the end of the second quarter and was joined by other super-subs Lisa Mather and Monique Meyer after the break. However, some velvet netball from Captain Corbin and a visionary long-pass from Meyer to Venter, weren't enough in the third, leaving Mavericks with a ten-goal mountain to climb in the final fifteen.
Razia Quashie, voted Fans Player of the Match , was pleased with how her team "pushed it til the end." Regrettably, commitment and further rotations in the final quarter weren't enough to catch a Storm side who were flexing their table-topping muscles.
Head Coach, Camilla Buchanan, reflected on how the game got away from her team:
"That's a disappointing game because there were moments in there where we could have crept back into that game and we knew that if we stayed within touching distance of that team we could have taken a scalp."
Buchanan praised the impact players had off the bench and was delighted with Quashie playing not only her first 60 minutes after returning from injury but also doing so "against world class Peace."
As Mavericks continue to build, Buchanan is looking to hone her team's decision making under pressure:
"We've really been trying to build the pressure in different ways in training with a real emphasis on the decision making and making sure that when we are under the pump that we've still got the options."
Not the win the sell-out crowd were cheering for on this occasion, but their cheers didn't go unnoticed. Defensive powerhouse, Quashie, beamed as she praised the home crowd's support: "It was amazing to be home!"
Mavericks will be back home on 1st May to host last year's runner-up, Loughborough Lightning, after looking to bank 3 points next weekend in Cardiff against Celtic Dragons.
Report by Erica Rosa Tapp