MATCH REACTION | Alex Austerberry (AP15s Rd6)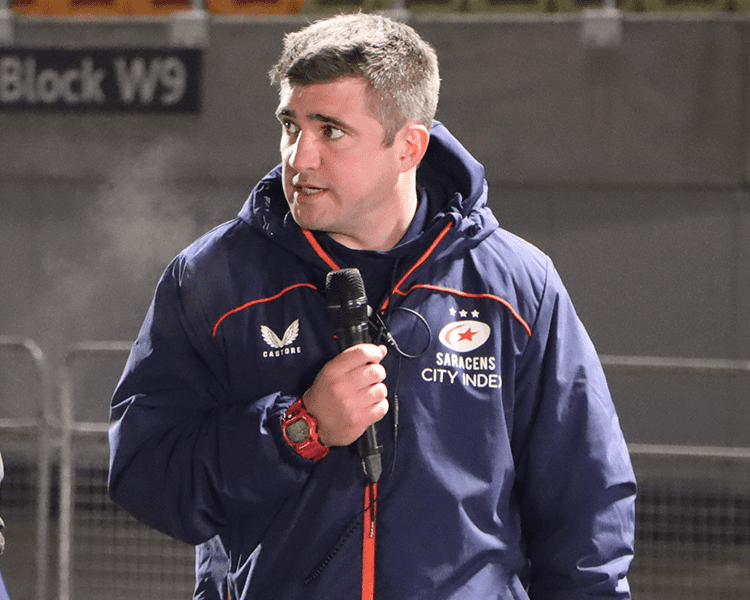 Director of Rugby Alex Austerberry was left with a smile on his face, after a "really positive start to the new year."
In challenging conditions, Austerberry saw his side at their relentless best, as they secured a comprehensive 89-0 victory over a resilient DMP Sharks side.
With a number of key faces back in a Saracens shirt for the first time this season, Austerberry was pleased with what he saw on the field.
"We had some new combinations and also welcomed some players back into the fold. At times we played some very good rugby and our intent to play, and our energy was pleasing. Both collectively and individually there were some high-quality passages of play and performances."
Austerberry was also left impressed with the work rate of his side in defence, as they kept their visitors scoreless throughout.
"Defensively, again we did some really good things. We have to ensure phase after phase we bring the line speed and look to be dominant in collisions that will then really dictate the breakdown, our decisions and actions. There were some very pleasing aspects."
Conditions throughout the afternoon at StoneX were particularly difficult, with the rain lashing down and a strong wind impacting upon play. Despite the score line, Austerberry still pinpointed several areas that he wants his side to improve upon, heading into next weekend's clash with Exeter.
"In some challenging conditions our link play and offloading were very good, but we did make a few too many errors, they do happen when you are looking at keeping the ball alive and playing with tempo. They are learnings and we will grow from those."
After a challenging start to the season, the Christmas break has acted as something of a reset for Saracens. Austerberry was at pains to emphasise that, despite there still being points of improvement, this was a much improved showing from his side and the perfect way to start the new year.
"We talked about getting the engine going today and getting our standards set. To continue the analogy, the engine ticked over well today but there is still some tuning to do, to really be at our best."