MATCH REPORT | Saracens Women 89-0 DMP Sharks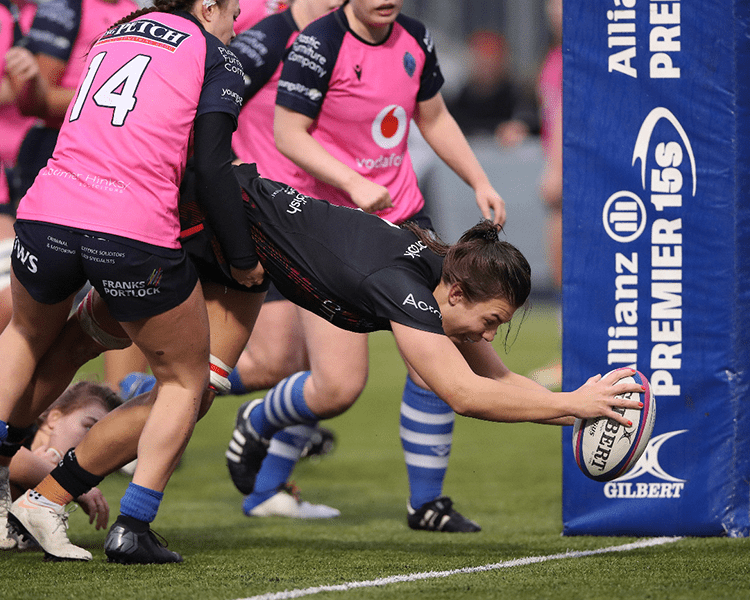 It was raining tries at StoneX Stadium, as Saracens Women kicked off 2023 in fine style, with a fifteen try rout of DMP Sharks.
Bolstered by his returning Red Roses, Director of Rugby Alex Austerberry will have been thrilled with what he saw from his side, as they showcased their attack prowess in challenging conditions.
Straight from the off, there was an attacking intent about this Saracens performance, with Zoe Harrison finding Holly Aitchison with an inch-perfect kick, for the centre to race in for her first try of the season.
One soon became two for the hosts, as Kelsey Clifford powered over from the back of a well-worked driving maul, as DMP struggled to deal with the speed of play from Saracens.
There was no let up from the hosts, but they were denied what would have been a gorgeous third score, as a final pass to Lotte Clapp drifted forward, following some impressive carries from Alex Ellis and Harrison.
Saracens wouldn't have to wait long though for the score to come, as Poppy Cleall marked her return with a try.
The bonus point was wrapped up before the twenty-minute mark too, and it was no surprise that May Campbell was the one to rise with the ball from the pile of bodies.
Credit to DMP, who stuck to their task and continued to probe when they had their hands on the ball, but Saracens were in a ruthless mood, as Marlie Packer grabbed her first of the afternoon.
On the half hour mark, Aitchison grabbed her second, after space was created on the blindside, before Jess Breach got herself in on the act, with a debut try shortly before half-time.
This was another well-worked score, with Cleall taking on the DMP defensive line, before the ball was worked wide for Aitchison.
There was to be no let-up in the second half either, as Campbell bagged her brace, before co-captains Packer and Clapp combined for a sumptuous score.
Packer single-handedly took on half the DMP team herself, before flicking the ball out to Clapp to race over out wide.
Not content with setting up a try for Clapp, Packer was soon in for her second of the afternoon, as a sweeping backs move created chaos in the DMP ranks, before Packer ghosted through on the inside for wonderful score.
With the changes being rung by the coaching team, replacement Coreen Grant looked lively every time she got her hands on the ball, stepping her way through the DMP defence.
Saracens though they were in for another try, only for some wonderful last-gasp defence from DMP to hold them up over the line.
Eventually though, the dam burst again on the hour mark, as Grant raced over for a deserved try, following another fine backs move.
Saracens were relentless now, hassling and harrying the DMP defence. With a show and go from Clapp creating space for the backs, replacement Leanne Infante was quick to the ball, with the speed of ball catching DMP unawares and allowing Cleall to crash over for her second.
With ten minutes still to go, there was little respite for DMP, with Sydney Gregson getting in on the act.
Louise McMillan then managed to reach out her long levers to bring up eighty points for her side, but there was to be one final moment of magic in store.
Aptly, it was Packer who capped a fine individual performance with an even better individual try.
After muscling through several tackles, the flanker chipped through, hacking her own kick forward and showing a fine turn of pace to beat the chasing defenders and cross for the try.
Zoe Harrison converted, to seal a fine victory for Saracens, ahead of a huge encounter next weekend away at Exeter.