MATCH REPORT | Leeds Rhinos 52-53 Saracens Mavericks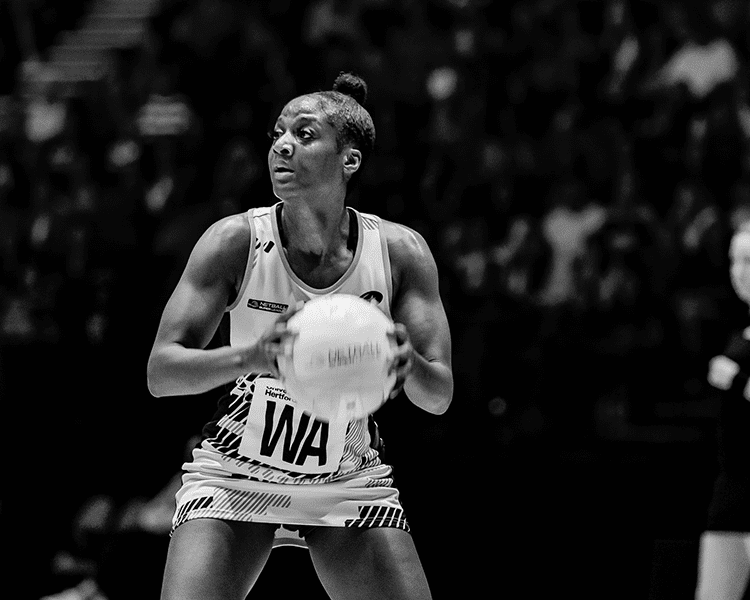 Well, nobody can say that it isn't edge of your seat stuff watching Mavericks!
Cagey, physical and drama filled. It's safe to say that this round twelve clash away at Leeds Rhinos went down to the wire.
After a week without any match action, Mavs were looking for a fast start, but their preparation was somewhat hampered by a late change to the starting 7, that saw Britney Clarke come in for Ine-Mari Venter at Goal Shooter.
It's fair to say that the first quarter was a cagey one, as both sides looked to get a feel for the game. Whilst Rhinos edged their way into a slender lead, Clarke and Kira Rothwell hauled their side back into contention, with Sasha Corbin pulling the strings to allow Clarke to put her side into the lead.
Whilst the Mavericks shooters were having to work hard for every inch out on court, it was the defensive duo of Jodie Gibson and Razia Quashie who were keeping their side ahead, with Quashie looking like she had never been away on just her second appearance back on court after recovering from an ACL injury.
With Venter fit enough to return to the court for the start of the second quarter, Mavericks looked fare more comfortable in transition, as they picked apart the Rhinos defence with some sublime play, to take a commanding seven goal lead midway through the quarter.
Things then seemed to come a little unstuck for Mavericks, as they struggled to get the ball moving through the court and into the shooting circle, as Rhinos kept themselves in the hunt.
Whilst Mavericks had dominated the opening period of the second quarter, now it was Rhinos' turn to give Camilla Buchanan's side a taste of their own medicine, as they chased down the scoreboard deficit with a renewed vigour and confidence, to hit the front with five minutes of the quarter to go.
Despite the best efforts of Gibson and Aliyah Zaranyika, Rhinos were flexing their muscles, both figuratively and literally, as they muscled their way through the Mavericks mid-court, allowing their attacking players to add a flurry of goals.
Mavericks needed a goal and quickly. They found it too through Venter, to make sure that they trailed by just the solitary goal heading into the final quarter.
With Quashie returning to the court, Mavericks begin to claw their way back into things. Her presence at the back allowed Gibson and Zaranyika to do what they do best, with some crucial interventions for their side, that allowed Rothwell and Venter to edge Mavericks back into a two-goal lead.
Beth Ecuyer-Dale got herself in on the act in her first start of the season too, with a beautiful sweeping pass into Venter to extend the advantage.
With two minutes left and with Mavericks having secured themselves a four-goal cushion, the victory looked to be assured. But there would still be a final twist in the tale, as Rhinos scored three quickfire goals, to leave Mavericks having to play a possession game to see out the final few seconds and secure the victory.
This was by no means pretty, or a flowing affair at the First Direct Arena. However, securing just a second away victory of the season was a perfect response to defeat at home against London Pulse.
Heading into next Saturday's clash with Surrey Storm, Mavericks can take comfort in the fact that they've discovered that winning feeling again, as they hunt a scalp over one of the top four.