MATCH REPORT | London Pulse 46-52 Saracens Mavericks (NSL Rd20)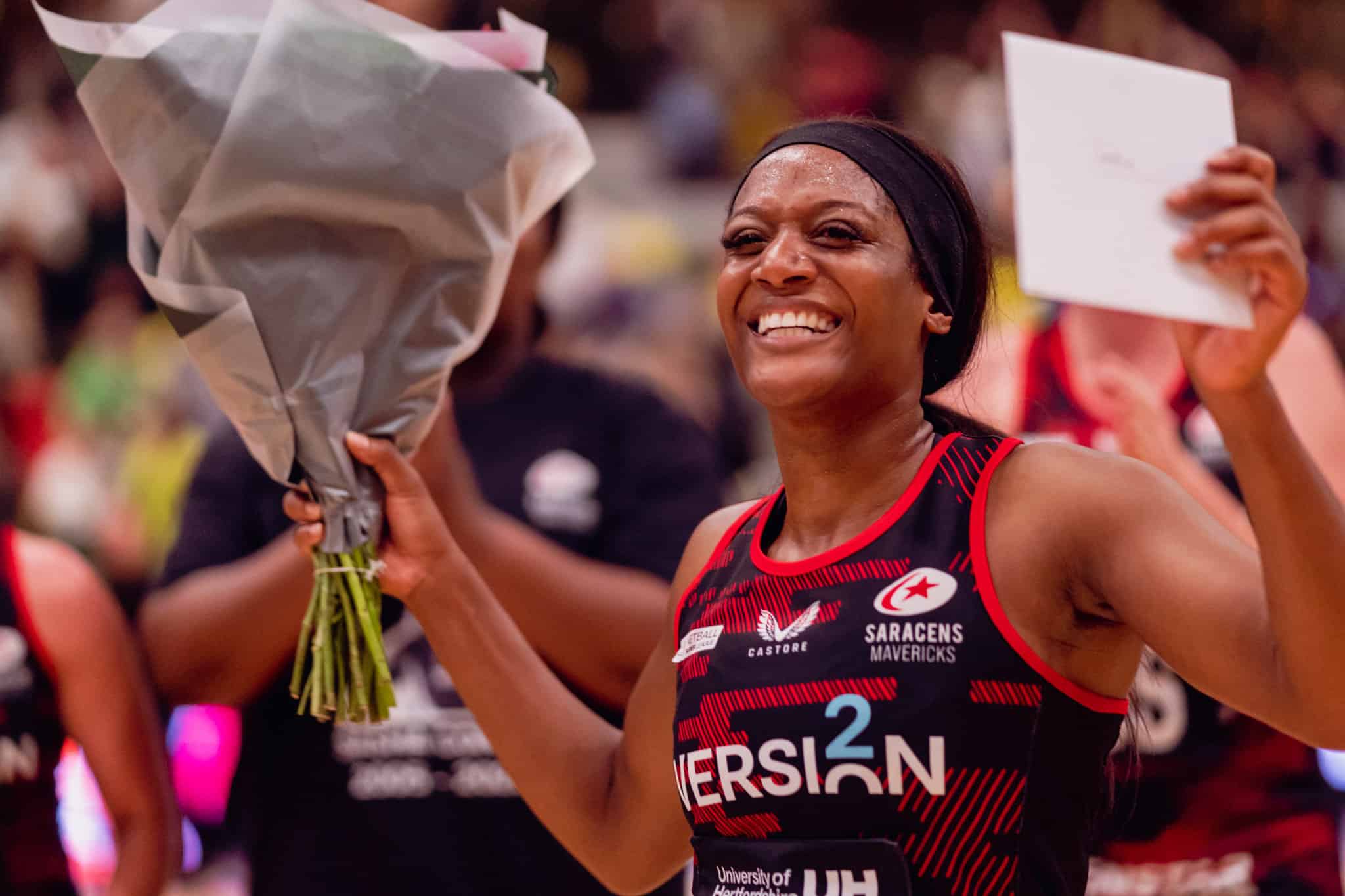 They say good things come to those who wait. And in Saracens Mavericks' case, that saying has never been truer, as they put in a masterful display to upset table-toppers London Pulse at the Copper Box.
Much has been made of how this season has been all about development for Mavericks and, if this final day performance is anything to go by, there is a lot to look forward to in the coming years.
On an evening when Mavericks and indeed netball, said goodbye to the legendary Sasha Corbin, it was fitting that her side put in a vintage showing, to send their captain into retirement in the best possible way.
After drastic improvements in the second half of the season, a defeat at home to Team Bath and a hefty loss on the road to Manchester Thunder has threatened to derail Mavs' recent progress.
At the Copper Box though, things looked and felt different from the off. Despite Pulse taking an early two goal lead, they were being forced to work for every inch on court, thanks to the inspired Razia Quashie and Monique Meyer in defence.
Pulse managed to pull clear into a four-goal lead, but Mavs refused to let that get to them, as they stuck to their task in impressive fashion.
Lisa Mather was finding pockets of space all over the court and even had time to turn her hand to the defensive cause, such was her speed across the court.
Quashie was again at the heart of the Mavs defensive effort as they forced the normally cool and collected Pulse attacking third into a series of uncharacteristic mistakes, before Kira Rothwell edged her side into the lead against her former club.
Beth Ecuyer-Dale came on for Mather midway through the second quarter and the Centre set about continuing her teammates superb work.
Interceptions were flying in left, right and centre, but the Mavericks shooters managed to keep their cool, with Ine-Mari Venter demonstrating why she is one of the most consistent Goal Shooters in the league.
Mavs were flying now, as Pulse struggled for possession and answers, heading into the half-time break.
Despite the success of the first half, even the most optimistic of Mavs fans was probably expecting a Pulse response in the second period.
Instead, Camilla Buchanan's side went to another level again, as they upped the intensity and pulled themselves out to a ten-goal lead, thanks to a flying interception from Aliyah Zaranyika.
Pulse responded as they were expected to, but Mavs continued to stand firm, taking a six-goal lead into the final quarter.
Any doubts about whether Mavs would crack were quickly washed away again, with Rothwell and Venter showing impeccable movement to find pockets of space in a tightly contested shooting circle.
They were aided though, by some vintage play from Corbin on her final outing in a Mavericks dress.
Corbin's career has been defined by her infectious personality and her ability to find space and time on court when it seemed impossible.
Those attributes were on full show again here, as she came up with a miracle pass, to allow Venter to add another goal to the tally.
With time ticking away, there was a stunned silence around the Copper Box, as the Pulse fans began to prepare themselves for just their second defeat of the season.
The hosts rallied again, but Mavs had more than enough and, when Pulse looked like they were building up a head of steam, Meyer was there again with a crucial interception for her side.
The wild cheers and smiles of delight that broke out across the faces of the Mavs players and staff at full-time show just how seismic this result is.
For the first time this season, a side outside of the top four has taken a victory against a play-off contender.
This was a fitting farewell for captain Corbin. Such is her character, that she will want this evening to be all about her team. But, this was a fitting tribute and send-off to one of the greats of the game.
For Mavericks, the result also secured a fifth-place finish in a highly contested mid-table scrap.
On an evening filled with emotion, Mavericks fans were treated to the past, the present and the future of their side. Sasha Corbin departs with a performance to be proud of and she will truly believe that her side are on the cusp of something special in the coming seasons.
For now though, this evening was all about a complete team performance, to cap a season of huge growth, with one of the biggest scalps of them all.