MATCH REPORT | Saracens Women 48-38 Bristol Bears (AP15s Rd17)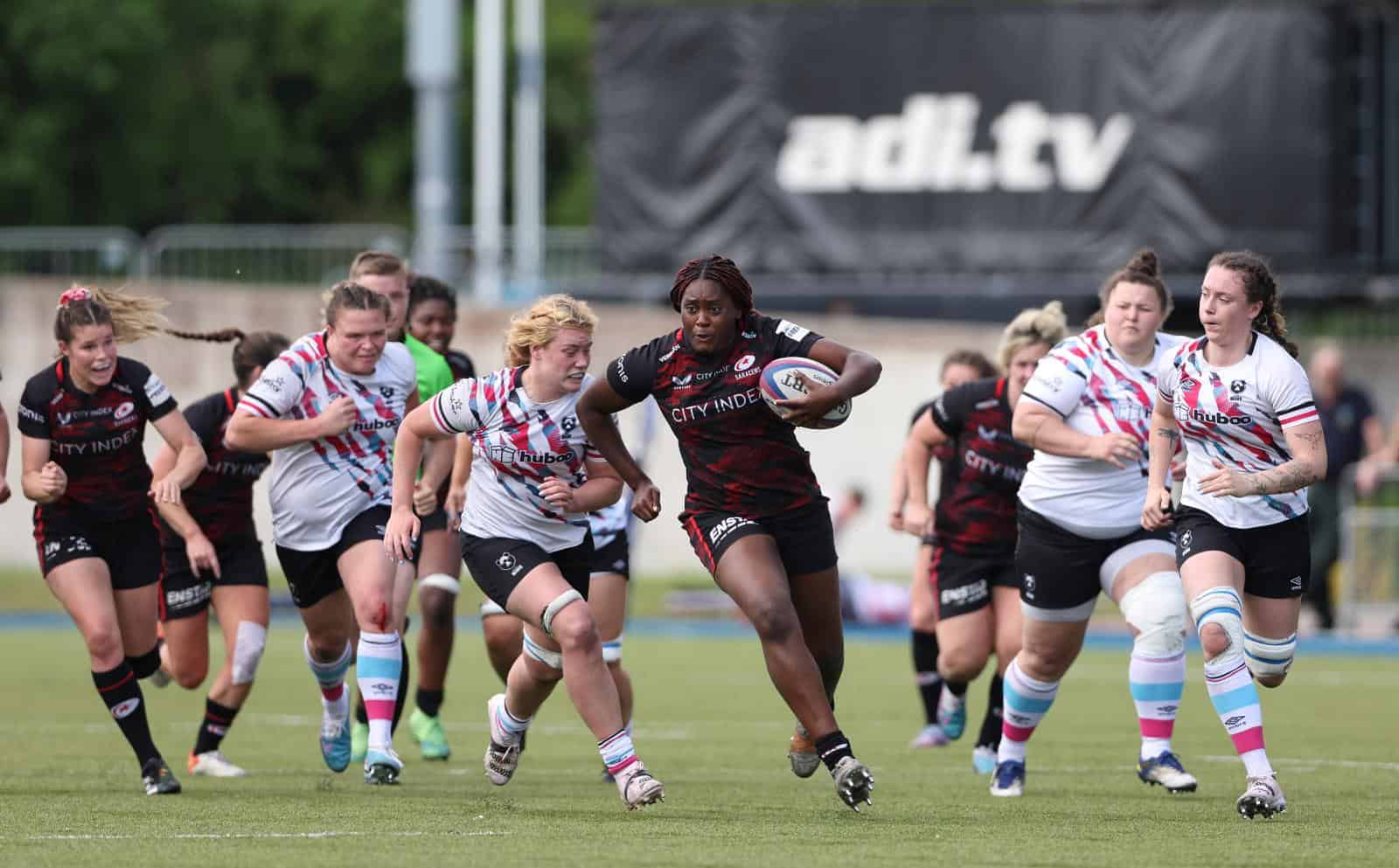 It's not how you start. It's how you finish.
On a sun-drenched and emotion-filled afternoon at StoneX, Sarries showcased their steely resilience, to come from behind and beat Bristol Bears in an epic.
There always seem to be tries when these two teams meet and, it was the visitors who struck just one minute in, as Phoebe Murray raced free after Sarries had botched the kick-off.
With the wind sweeping across the pitch, it took Sarries a while to hit their straps, but they did with a brutal edge on the ten-minute mark.
After a huge turnover from Lotte Clapp, Sarries kicked to the corner, with May Campbell pouncing from the back of the maul.
Sarries were flying now and, whilst the Bears still looked dangerous, Marlie Packer was on hand to power over from close range, as Sarries hit the front.
Bristol though, refused to lie down, as they gave Sarries a taste of their own medicine by crashing over from a maul.
The game was exploding into life now, as Jess Breach scythed through the heart of the Bristol defence. From there, it was all about the power game, as Grace Moore pounced for her first of the afternoon.
The Bears though, finished with a first half flourish, as Davies scored her second from the maul to take the lead heading into the changing rooms.
Whatever was said at half-time certainly seemed to do the trick, as Moore pounced on a loose ball and raced clear from halfway.
Sarries had their tails up now and they were in again soon after, with Holly Aitchison fizzing a delicious pass wide to Clapp to power over out wide.
Jess Breach then thought she was in from an intercept, only to be denied by the referee's whistle, before Bristol levelled the tie again, with former Saracen Deborah Wills racing through the middle of the defence to dive over.
Into the final fifteen minutes and the game was continuing to ebb and flow, as Sarries hit the front again.
With a loose, bobbling ball coming back on the Saracens side, Sarah McKenna and Poppy Cleall combined, as the number 8 rounded the final defender and dived over with her arm aloft!
If Sarries thought that that was the winning score, they were very much mistaken, as Bristol hit back again.
This time, it was Courtney Keight who raced over after some suspect tackling, to level the match heading into the final ten minutes.
This really was do or die as far as Sarries' hopes of trying to secure a home semi-final were converned.
Bristol continued to hammer away in defence, but eventually, the white wall parted, with Aitchison again at the heart of it, pinging the ball wide to Coreen Grant to dart over.
When Sarries needed it most, their ability to keep hold of the ball came to the fore, as they wore down the weary Bristol defence.
With a late penalty coming their way, Aitchison made no mistake from the tee, to take Sarries 10 points clear and seal a quite remarkable victory.
All eyes now turn to next weekend against Loughborough. Sarries will need a helping hand from Gloucester-Hartpury if they are to pip Exeter to a home semi-final. However, they've done all they can, going into the final day at Franklins Gardens.