MAVERICKS PREVIEW | Kelk seeking improved team performance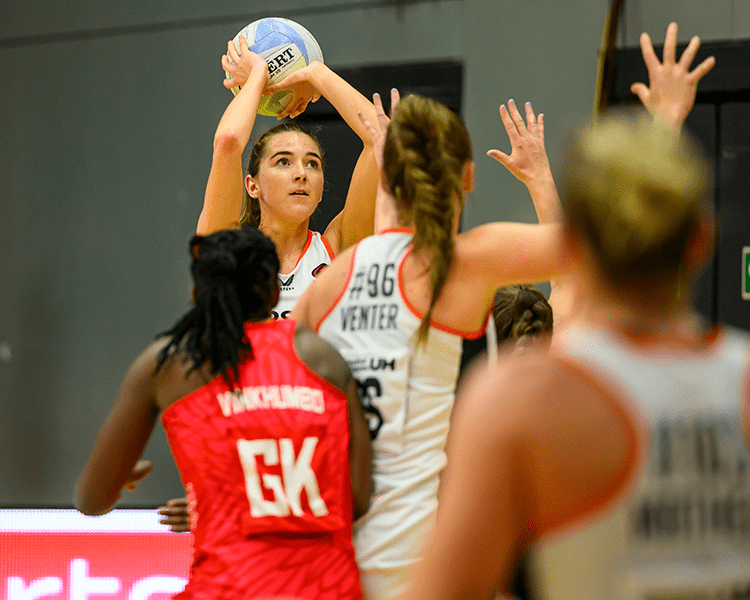 After a disappointing result last weekend against Strathclyde Sirens, Saracens Mavericks will be eager to pick up a result this weekend, when they take on Team Bath and Manchester Thunder.
The match against Bath will see the side embark on a second consecutive away day and Ellie Kelk explained that her side need to cut out the errors if they are to secure a result.
"It wasn't the performance we wanted to put out, so this week we've been focusing on ourselves making sure we cut out the basic errors and doing our own job for longer. There's been highs and lows so far this season, the games come thick and fast, but we want to keep building those connections and improving each round so we have more highs and fewer lows."
Kelk has had limited minutes on court so far this season but made a big impression as Goal Attack last Friday night. Having already learnt a lot since returning to Mavs, Kelk was pleased to be able to demonstrate some of those learnings on court.
"We've got a super competitive environment, so it was great to get out on court last weekend despite the score-line and get that experience under my belt. I've learnt a lot over the past couple of months so was pleased I could implement some of that into the game."
Team Bath have had a somewhat sticky start to the season, as they blood new players into their side. They are a side on the up though, and Kelk is under no illusions of the challenge her side will face this evening.
"It's going to be tough; they're building each round and both teams will be gunning for the three points. They have a lot of speed and flair throughout the court, so we need to slow them down as much as possible and disrupt their flow. For us, it's a targeted must-win game so it's about sticking to our structure, trusting it for the full 60 minutes and adapting quicker during the quarters."
Following this evening's match against Bath, Mavericks will then welcome champions Manchester Thunder to HSV on Sunday afternoon. This will be the second double header weekend that Mavericks have played this season, but Kelk feels that her side will have the time they need to implement any changes that may come about following this evening's match.
"A double header is always a challenge, but we train back-to-back, so we're prepared for it, and it'll be a good chance to get back out there and quickly fix anything from the Bath game. We have over 24 hours this time round so it is made slightly easier, but plenty of rest and recovery will be needed."