MAVERICKS PREVIEW | Zaranyika Still wanting more (NSL - Rd13)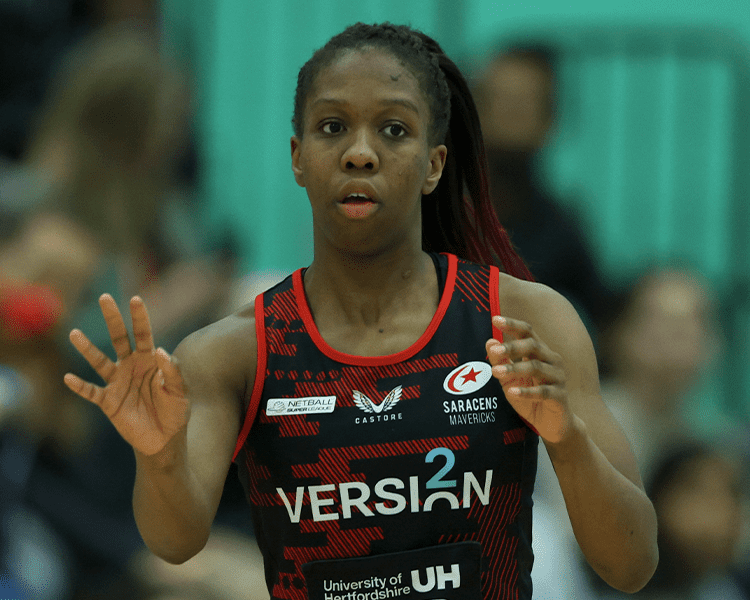 A week on from a pulsating one-goal victory over Leeds Rhinos, Saracens Mavericks return to HSV in front of another sell-out crowd against Surrey Storm.
It was by no means an easy ride in Leeds, as Mavericks had to claw their way back into the match. One of the standout performers in that match was Aliyah Zaranyika, who the Wing Defence explaining that the result was a significant one for her side.
"The Leeds result was crucial. It was really important not only in terms of keeping pace with the teams around us in the table but also for us to grind out a result against a tough side and take some smaller wins away from the game. We have a few tough games coming up and it's important that we don't head into those on a losing streak."
There's nothing quite like playing in front of a home crowd and Zaranyika couldn't help but smile at the prospect of playing in front of a packed-out crowd again.
"Honestly, we're buzzing! The prospect of playing in front of a sold-out crowd for a local derby is so exciting. Having the crowd behind us means more than I could ever express. It's always special when you have the crowd on your side, cheering us through the game and we're grateful for every person who comes to watch our games."
The last meeting against Storm was one that ebbed and flowed, as Mavericks put up a brave fight in their second match in as many days, before ultimately falling short.
Zaranyika believes that her side can take a lot of confidence from that performance and admitted that there was a determination in the group to cause an upset on Saturday.
"It taught us that we can definitely compete with this Storm team and give them a very good game. Winning the second quarter 12-19 gives us confidence that we can cause some problems. After such a close game last time, we are determined to do better and be the first team outside the top 4 to topple this Storm team."
Zaranyika has been on fire this season, with a number of barnstorming performances. However, she admitted that she is still seeking improvements in her game.
"To be very honest, I still want more from myself. I am grateful for every opportunity to take the court and play with such an incredible defensive unit, especially now that Raz is back - I have learnt so much from playing alongside her and Jodie."
Zaranyika was quick to highlight her gratitude for the accolades she has already received this season. However, she explained that she will only be happy, once she is able to help translate positive performances into wins.
"I will always give everything I can to help the team and I really am very appreciative of some of the recognition I've been getting but I will only be fully satisfied when I can help translate the performances into points on the board."