Nick Tompkins: Grasping his opportunity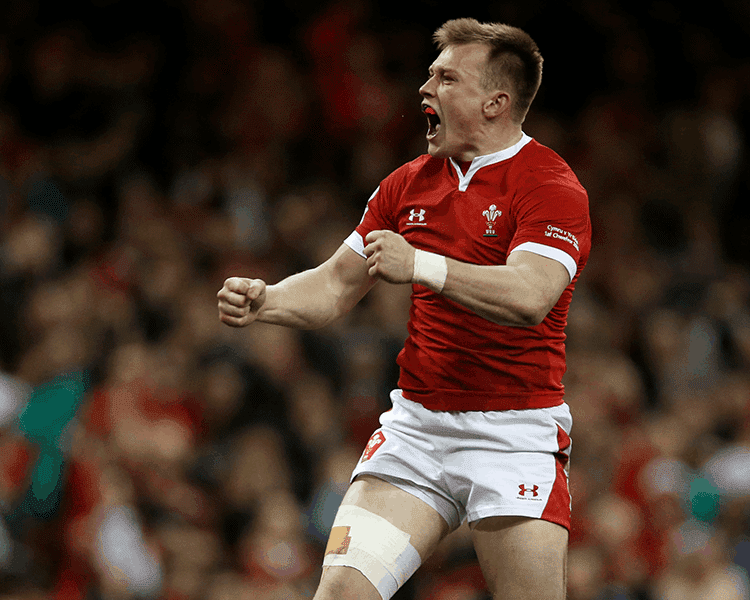 From Old Elthamians RFC to the Wales squad. Nick Tompkins has had a long, arduous journey to join rugby's elite, having to wait for his opportunity at club level and proving his worth on the international stage.
Undoubtedly the centre's breakthrough year came in 2018/19. Some outstanding performances, including a hat-trick on his 100th appearance for Saracens, caught the eye and led to now Wales head coach Wayne Pivac enquiring of his availability.
"I was sat opposite Alun Wyn Jones and I wondered 'what is going on here?'"
But how does the Sidcup-born Tompkins, who was part of the England Under-20 side who won the 2014 World Rugby U20 Championship, qualify for Wales? Through his maternal grandmother, Enid, who was born in Wrexham in 1933.
"It is a huge honour to have been asked to join the Welsh squad," he said after being called up for the Six Nations.
"My grandmother was born in Wrexham, and I have cousins who are regulars at the Principality stadium in Cardiff.
"It's true that I played for England through the age-groups, but I have always felt part Welsh and part English, and I am massively excited by the prospect of wearing the red jersey and playing for the most passionate supporters in world rugby."
An affable ball of energy, Tompkins made an immediate impact on the Wales squad and although he was mistakenly thought to be named 'Neil' by captain Alun Wyn Jones at the tournament launch, much to the amusement of club teammate Owen Farrell, he adapted to an international training environment seamlessly.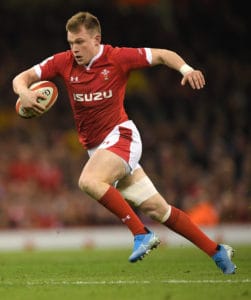 "It was nerve-wracking coming into a new group and I was lucky to know a few boys already in Ross Moriarty, Liam Williams and Rhys Carre," he said.
"First time I was here Rhys took me down to the lunch hall and everyone was there.
"We were late anyway coming through the traffic, so we sat down and within five minutes he just left me!
"I was sat opposite Alun Wyn Jones and I wondered 'what is going on here?'
"It was sink or swim after he chucked me in the deep end. But I got on with it. You worry about that and trying to fit in, but it's been made so easy."
His efforts to integrate himself quickly and his performance on the training paddock led to his milestone moment – a first inclusion in a Wales 23. The opener against Italy.
"Nick has trained really well and has impressed and we are looking forward to seeing him at some stage during the game," coach Pivac said of his inclusion.
Tompkins didn't look out of place at the Principality whatsoever. Donning the 23 jersey, he passionately sung Hen Wlad Fy Nhadau, the Welsh national anthem, prior to kick-off and took his seat on the bench to observe play.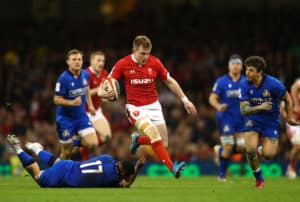 It wasn't long until he was thrust into action for his debut however as he was needed inside the opening 10 minutes for fellow first cap Johnny McNicholl. A nervous start saw the 24-year-old miss a tackle which he immediately made up for with a superb turnover.
Then a pass to behold. On the move, Tompkins played a delight sweeping ball to an onrushing Leigh Halfpenny who in turn sent Josh Adams into the corner. McNicholl returned to the field and Tompkins' taster was over… for now.
"I calmed down, sat on the bench and said 'OK, that's the level, you're OK, you can do it'," he said of the unexpected cameo. "It was a blessing in disguise."
And so it proved. Tompkins returned to the fray in the second period and dazzled, scoring a try to mark his first international outing.
Collecting a Dan Biggar pass, the Sarrie stepped on the gas to race through a gaping hole in the midfield before burning full-back Matteo Minozzi to dot down. The emotion was there for all to see as Tompkins yelled, jumped and fist pumped to celebrate a moment to savour.
"That was for my gran - she's the reason I'm here," he added.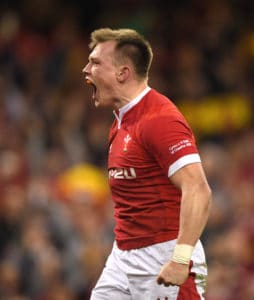 "I had no control over that. I went blank. That celebration was emotion and probably a bit of anxiety and relief all together. 
"It was one of those I'll never forget. I was just happy to be on that pitch so that just topped it all off really. It was the icing on the cake"
Tompkins continued: "All my family were here. My grandmother was on my mum's side so she was really happy.
"It was funny seeing my dad have to dress up in a Wales shirt because he's very English, but my mum was very happy about it!
"I got emotional before the anthem but I pulled myself together."
Tompkins' display resulted in further adulation outside his family. The Welsh fans and the national media were waxing lyrical about his game, and tipped him for a start against Ireland. Their wish came true.
"I wasn't sure I'd start as all the boys played really well," Tompkins revealed.
"Wales has always been part of my family life – my gran was always getting in my ear to play for Wales."
"It's a dream and hopefully I can step up and do what I can. I was very nervous against Italy, but I got to run around and expend a lot of nervous energy.
"So that was brilliant. I was able to calm myself down and think I can handle this level, that I'm supposed to be there and I can do this.
"I'm confident that I can keep that up. My family are still talking about my debut.
"They weren't meant to fly out to Ireland but they're all coming now. Even my dad's side – it was brilliant to see him having a shirt on! That was the best.
"My brother had a shirt on as well – and I think my dad cried! Wales has always been part of my family life – my gran was always getting in my ear to play for Wales."
Another start came in Round 3 when France visited the Principality Stadium and it's likely the Saracens Academy graduate will feature in games with England at Twickenham and Scotland at home too.
What is certain is he is making the most of any opportunity thrust in his direction.