Saracens and Sale Sharks to wear away kits in Premiership Final to avoid clash for colour blind supporters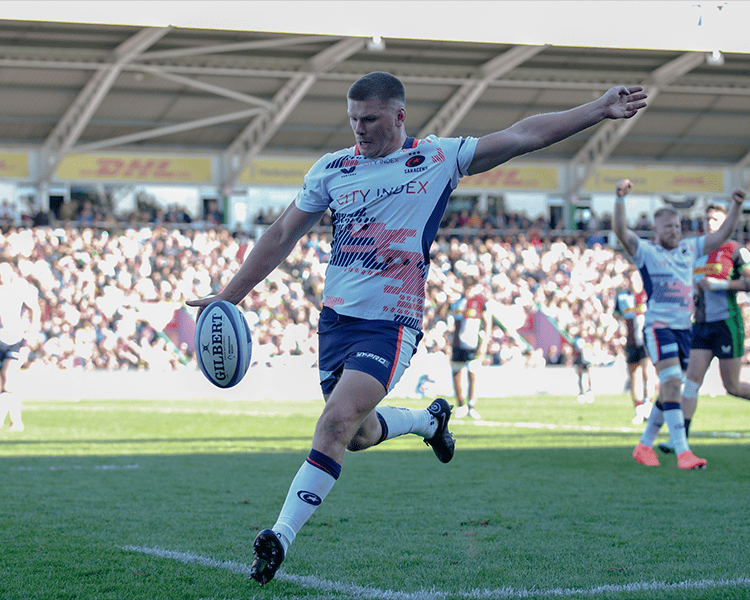 In the Gallagher Premiership Final on Saturday May 27, both Saracens and Sale Sharks will wear their away kits as part of Premiership Rugby's ongoing bid to avoid kit clashes that limit the viewing experience for supporters with colour vision deficiency.
Top seeds Saracens will wear their white away kit with Sale Sharks in maroon. This will enable supporters at Twickenham and television audiences on ITV1 and BT Sport to watch the match with a clear colour contrast between the two sides.
Traditionally, Saracens as the top seeds would have worn their black home kit against the Sharks in red/maroon away kit. The black/red colour combination is among those highlighted by Colour Blind Awareness as a kit clash to avoid for the benefit of supporters with a vision deficiency.
Premiership Rugby has been working with Colour Blindness Awareness to try and make rugby as inclusive as possible for all fans of the game with regulatory changes in place to eliminate all kit clashes that affect colour blind supporters.

Kathryn Albany-Ward, CEO of Colour Blind Awareness, said:
"We are delighted that Premiership Rugby and the clubs have taken positive steps to avoid kit clash situations for colour blind fans and players.
"Bearing in mind the significant number of colour blind people (one in 12 men and one in 200 women) who watch and play rugby, it is important that the accessibility needs of these groups are recognised to enable all fans of the sport to have a positive viewing experience that isn't limited by avoidable colour clashes."
Ollie Lewis, Head of Broadcast at Premiership Rugby, added:
"Premiership Rugby are determined to lead the way in an important but often overlooked area relating to colour blindness of sports fans. Our clubs have been overwhelmingly supportive of our ambition to eliminate kit clashes with a collective desire to increase inclusivity of our sport to all audiences.
"There is no better example than the Gallagher Premiership Rugby Final, English rugby's showpiece event, to highlight the importance of this issue and we look forward to continuing to work with Colour Blind Awareness to ensure that we continue to make our league as inclusive and accessible as it can be."
Book your tickets to the final HERE!