Saracens v Cardiff Rugby | Ticket Information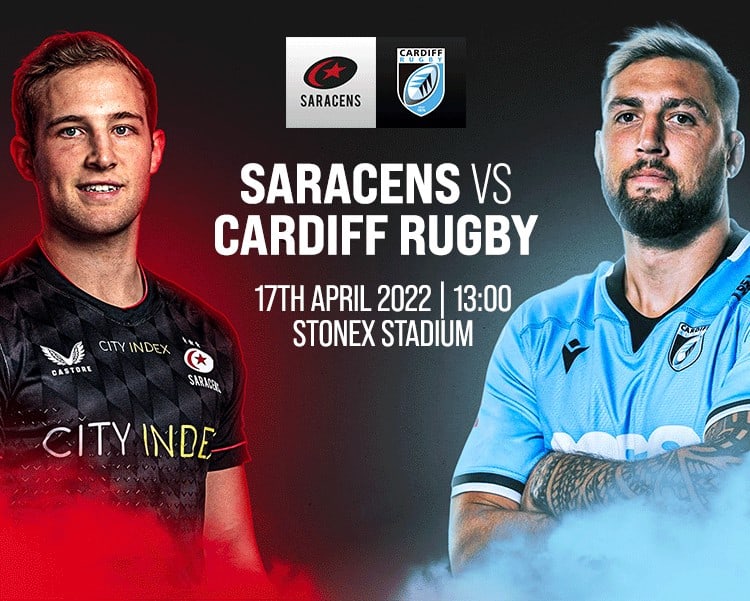 With several internationals across both teams, it promises to be a typically combative Anglo Welsh affair on the pitch and supporters can expect a few Easter surprises off the pitch.
We hope as many of our supporters are able to join us and get behind the team for this European clash. Below we have provided some important information to help you secure your tickets and plan your day:
Securing your seat
Please note that this round of 16 game is

 

NOT

 

included in Seasonal Memberships
Seasonal Members will be given a priority booking period until 17H00 on Tuesday 12th

 

April
Your seasonal seats are not reserved for you, please book early if you wish to secure your existing seat
The game is a great opportunity to experience the view from the New West Stand (particularly if you are considering a seat move next season)
Tickets will go on general sale from 18H00 on Tuesday 12th

 

April
Tickets will be priced from just £20 for adults (with an additional 25% discount applied for Seasonal Members).
CLICK HERE TO BOOK YOUR SEAT (LOGIN AND SCROLL TO THE BOTTOM OF THE PAGE TO VIEW YOUR "PERSONAL OFFER")
Hospitality Packages
Please note that this round of 16 game is

 

NOT

 

included within Seasonal Hospitality Memberships
Due to the 13.00 kick off we will be offering alternative hospitality packages for this game only.
Easter Brunch Package
We will be offering an Easter Brunch package within the 100 Club and Tulip Club inclusive of beers, wines and soft drinks as well as your ticket @ £175+VAT per person (£150+VAT for Members) .
Fez Club Members
Fez Club members can chose to either book the Easter Brunch package, or purchase your ticket separately and enjoy access to the Fez Club as a cash bar only. Note that this opportunity is only available to current Fez Club members.
For all hospitality queries please contact James McCann at jamesmccann@saracens.net
Travel
Details of how to travel to StoneX Stadium can be found here.
We would encourage all supporters to consider using public transport and the Saracens Shuttle Bus service to travel to the game so to maximise your Easter Sunday experience.
Saracens Shuttle Buses
The Saracens Shuttle Bus service will be operational and specific details of bus timings can be found below:
Before match
From Edgware   (stop H outside Halifax bank)  1045   1100   1115  1130    then every 15 minutes until   1245
From Mill Hill Broadway  (stop F)                        1045   1053   1100  1108    then every 6 - 8 minutes until   1300
From Mill Hill East  (Station forecourt)               1040   1055   1110   1125   then about every 7-8 minutes until   1210   1225   1240   1255
After match
To Edgware                                                         1502   1511  1522  1532  then every 7 - 10 minutes until  1650  1700
To Mill Hill Broadway                                        1450   then every 5 - 10 minutes until    1650  1700
To Mill Hill East                                                  1450   then every 5 - 10 minutes until    1650  1700
Food and Drink
A wide variety of concessions and public catering options will be available for the game.
Car Parking
Car parking for this round of 16 game is

 

NOT

 

included in seasonal car parking memberships
Car parking is available on a 1st

 

come 1st

 

served basis, priced at £15 for onsite parking and £10 for offsite parking. Please note car parking must be booked in advance of the game.
Click here to book your car parking
Timings
Gates open - 11:00
Hospitality starts - 11:00
Kick off - 13:00
Final Whistle - 14:45
Bars Close - 16:45
Gates Close - 17:30
We look forward to welcoming you all to StoneX Stadium for what promises to a memorable Easter Sunday.