Stowford Press brings you #AlexsUpToNoGoode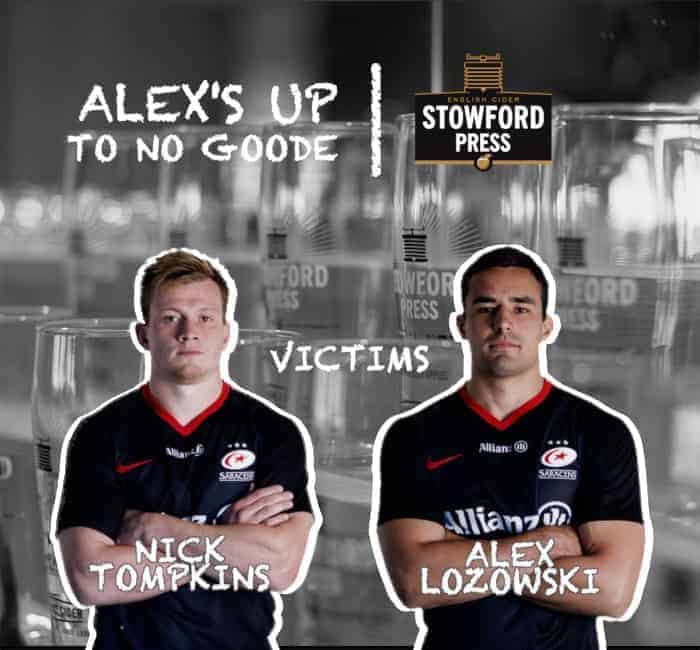 Cider, whacky flavours, awkward silences, covert earpieces, uncomfortable questions, #AlexsUpToNoGoode has it all.
[zype_video id='5da064ab59778b5bfe8adf91']
Stowford Press, the official cider of Saracens, asked Alex Goode and Alex Lewington to pull a prank on two of their teammates, Alex Lozowski and Nick Tompkins.
The pair thought they were coming in for a routine cider tasting but with Goode and Lewington armed with a direct line to an earpiece worn by the host (who happens to be an actor), carnage ensued!
Don't miss all of the cringeworthy moments, as well as the hilarious reveal, by watching the full video.

Packer delighted to be playing at home
Saracens and England captain Marlie Packer admits that she can't wait to lead out her country at home this weekend. After a 50-24 victory over Canada last Saturday, the Red Roses return to StoneX for the first time since 2018 on Saturday, for the second match of this two-test series. "I'm stoked to be playing […]

Saracens Men v Hartpury | Important Information
We are excited to welcome fans to StoneX Stadium for our final Men's home pool stage Premiership Cup game on Saturday 7th October against Hartpury. To make this matchday run as sustainably as possible and maximise the atmosphere in the stadium, we will be hosting all supporters in the East Stand for this fixture. This […]

Four Sarries to represent England at StoneX
Saracens star Sophie Bridger is set to make her international debut this weekend at home, as the Red Roses take on Canada at StoneX. A week on from a 50-24 victory over the North American's in Devon, interim Head Coach Lewis Deacon has selected four Sarries stars in his squad, with Marlie Packer leading out […]