TEAM NEWS | Exeter Chiefs Women v Saracens Women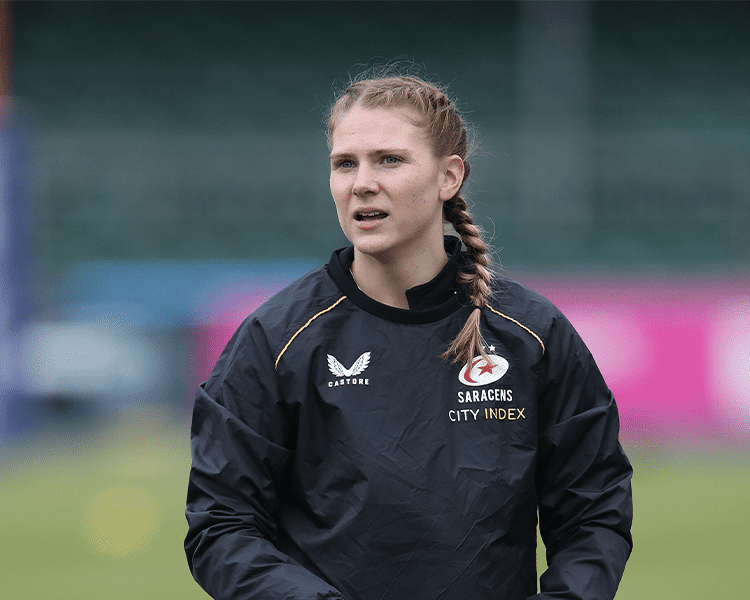 Lotte Clapp, captain of Saracens Women says the squad will be using the final two matches of the regular season to build up some form before the all-important play-offs.
Alex Austerberry's side head in to Saturday's match against Exeter Chiefs at Sandy Park with the knowledge that they have already secured a home semi-final, but with a lack of game time recently they will want to hit the ground running for the business end to the campaign. 
The Women in Black are boosted by a number of some of their international stars returning, after a TikTok Six Nations tournament which saw the Red Roses secure their fourth title in a row.
Hannah Botterman, May Campbell and Alex Ellis start in the front-row and will be looking to give the scrum a solid platform, whilst Fiona McIntosh and Catha Jacobs will be in the second-row. 
Jodie Rettie, Vicky Fleetwood and Mackenzie Carson will operate as a dynamic back-row, and they can provide front-foot ball for an electric back-line.
Ella Wyrwas and Holly Aitchison combine as half-backs, with Alev Kelter and Hannah Casey in the midfield. 
Captain Clapp is on the left wing, with Alysha Corrigan on the right and Sarah McKenna at full-back.
Kat Evans and Coreen Grant, who also featured in the Six Nations are on the bench and will be aiming to make a big return to the Black and Red jersey. 
Clapp is excited to have the group fully reassembled after a lengthy international window. 
"It's felt like a long time since the whole squad has been together so we're looking forward to being able to focus on us and prepare ourselves as best we can for the semi final."
Saracens Women team to play Exeter Chiefs Women: 
1 Hannah Botterman 
2 May Campbell
3 Alex Ellis 
4 Fiona McIntosh
5 Catha Jacobs
6 Jodie Rettie
7 Vicky Fleetwood
8 Mackenzie Carson
9 Ella Wyrwas
10 Holly Aitchison
11 Lotte Clapp (c)
12 Alev Kelter 
13 Hannah Casey
14 Alysha Corrigan
15 Sarah McKenna
Replacements:
16 Kat Evans 
17 Jodie Turl
18 Kelsey Clifford
19 Sophie Tansley
20 Sonia Green 
21 Carly Waters 
22 Cara Wardle
23 Coreen Grant