TEAM NEWS | Saracens Women vs DMP Sharks (AP15s – Rd 6)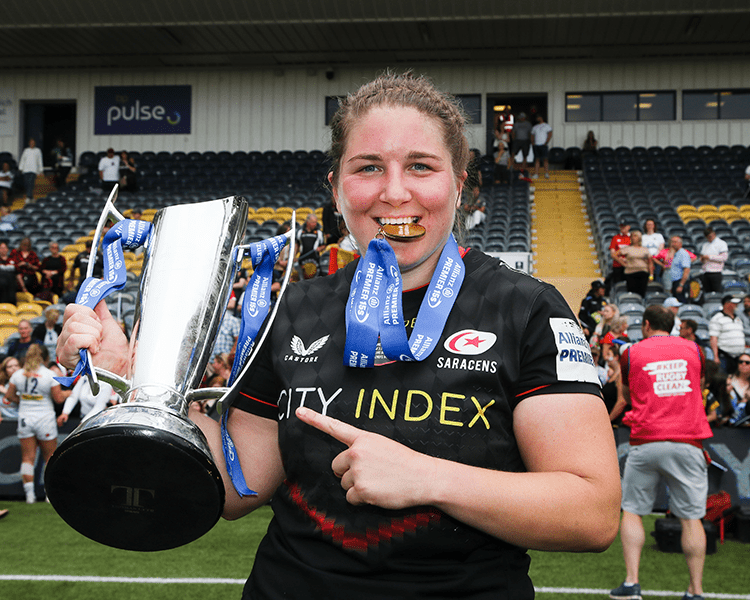 Backrow Poppy Cleall admitted that she was "so excited to be back," as she finally looks set to make her return to Saracens colours following the Rugby World Cup.
Following the postponement of the last match before Christmas against Sale Sharks, it has been a month since the side last took to the field. With a run of consecutive matches through until the start of the Six Nations, tomorrow's match against DMP marks the first opportunity for Alex Austerberry's side to start to climb the table.
It's a view echoed by Cleall, who insisted that her side need to put the work in to maximise their opportunities.
"Our aim is to be in the play-offs and be in the mix come the end of the season, so now we need to get our heads down and work hard for that because of where we are in the table."
Ahead of this one, Director of Rugby Alex Austerberry has been able to welcome back a number of key players into his matchday squad.
In the front row, Kelsey Clifford, May Campbell and Alex Ellis are named, with Fi McIntosh and Louise McMillan making up the second row.
It's an all international backrow, with Irish international Grace Moore joined by Red Roses Marlie Packer and Cleall.
Ella Wyrwas and Zoe Harrison start at halfback, with Holly Aitchison and Hannah Casey in the centres.
An exciting looking back three sees Lotte Clapp and Sarah McKenna joined by Jess Breach, who will make her highly anticipated debut in a Saracens shirt, after joining from Harlequins in the summer.
Amongst the replacements, Mica Evans could make her return to Saracens colours in a competitive match, whilst Leanne Infante is also poised to make her second debut off the bench, having arrived from Bristol Bears in the summer.
Alongside them, Mackenzie Carson could also make her first appearance of the season, with Packer and Clapp named as co-captains.
With a busy January ahead and matches against last season's finalists Exeter Chiefs and semi-finalists Bristol Bears to come, tomorrow is an important opportunity to put a marker in the sand at the start of 2023.
Cleall insists that there is a fresh buzz around the squad since coming back post-Christmas and explained just how much of an appetite there was within the camp.
"We're back and we're raring to go. There's so much energy in there and it's ready to be unleashed at the weekend. Having it at home as well just adds something extra to it."
Saracens Women's Team vs DMP Sharks
Kelsey Clifford
May Campbell
Alex Ellis
Fi McIntosh
Louise McMillan
Grace Moore
Marlie Packer (co-captain)
Poppy Cleall
Ella Wyrwas
Zoe Harrison
Lotte Clapp (co-captain)
Holly Aitchison
Hannah Casey
Jess Breach
Sarah McKenna
Replacements
Jodie Rettie
Mica Evans
Mica Gooding
Sharifa Kasolo
Mackenzie Carson
Leanne Infante
Sydney Gregson
Coreen Grant