Vicky Fleetwood: I wanted to make my mark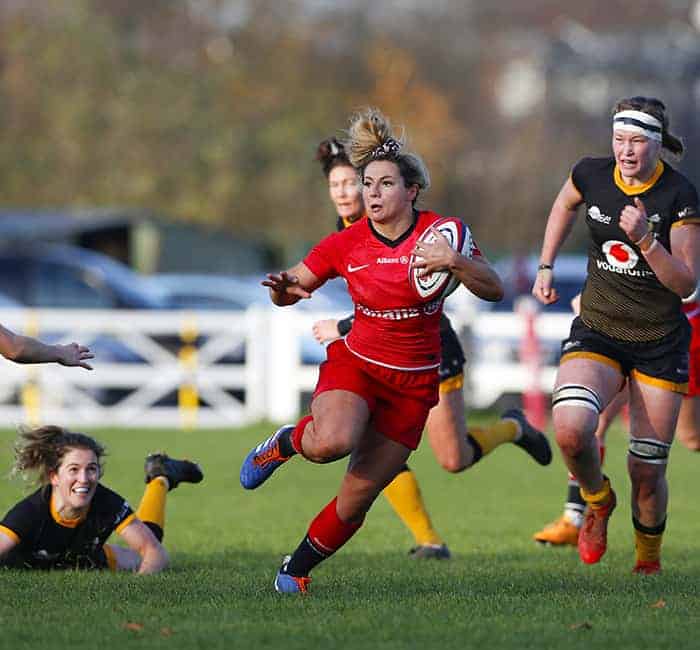 Even though the 2019/20 season may have come to a premature end due to COVID-19, it has still been a positive one for Vicky Fleetwood.
The Saracens Women loose forward made a successful return from a long-term injury that not only saw her impress in a Saracens shirt in the Tyrrells Premier 15s, but also resulted in a number of high-class performances for England during the Autumn Internationals and 2020 Women's Six Nations.
Watching the Nuneaton-born Fleetwood in action this season, you'd have been forgiven for thinking she was a long-time backrow stalwart, despite only being in her second season at flanker, having moved from hooker for the 2018/19 season.
However, three big injuries curtailed her involvement in Saracens Women's run to the TP15s title last year and the 2018 Commonwealth Games medallist was determined to make up for lost time.
"Coming into this season, having missed out on summer tour and everything, I just felt a new lease of life, just wanted to be back playing.
"I had gotten over the fact that I'd had the worst season known to man, but I stuck through it. I felt like I'd focused on my fitness and that felt good going into the start of the season.
"And then for me it was just about getting those run of games and get that game time behind me to build my confidence and to kind of show what I can do and show what I can bring in that seven shirt."
"I think there's always stuff you want to be working on"
Even though playing flanker is a new position for her, the World Cup winner noted that she was often asked to play in the extra backrower role that has become more and more common place for hookers in the modern game
"When I was playing hooker, which was four seasons ago now, that's how they viewed how I would play. I would be an extra backrower and that's how I like to play.
"I like to get my hands on the ball, I like to be in there making tackles and to have that big work-rate throughout."
However, a conversation with England Women Head Coach Simon Middleton on her return from the England Sevens programme saw her make the move towards the back of the scrum on a more permanent basis.
"I just think there were some good hookers coming through, but actually not so many backrows that they saw and having gone from sevens the previous year, speaking to Simon Middleton he was just like, 'I've seen you play in the backrow before, would you like to give that a shot and say that's a new position?'
"When I had played in a few tournaments previously or had to fill in for someone in the backrow, I just loved it.
"So, the fact that I got the nod from the England Head Coach to go and really put my eggs in one basket and say 'Right, this my position from now on', I thought, 'Yeah why not? Let's give it a go.'"
It would be hard to argue that she hasn't done so. Her performances for the Red Roses during this year's Women's Six Nations in particular earned her rave reviews and highlighted the gains she has made this season through her time at Saracens.
Yet you don't reach the level that somebody like Fleetwood without a desire for constant improvements.
"I think there's always stuff you want to be working on, especially playing at the level that we do. You want to go through every performance with a fine-tooth comb and pick out those bits that you can get one percent better at.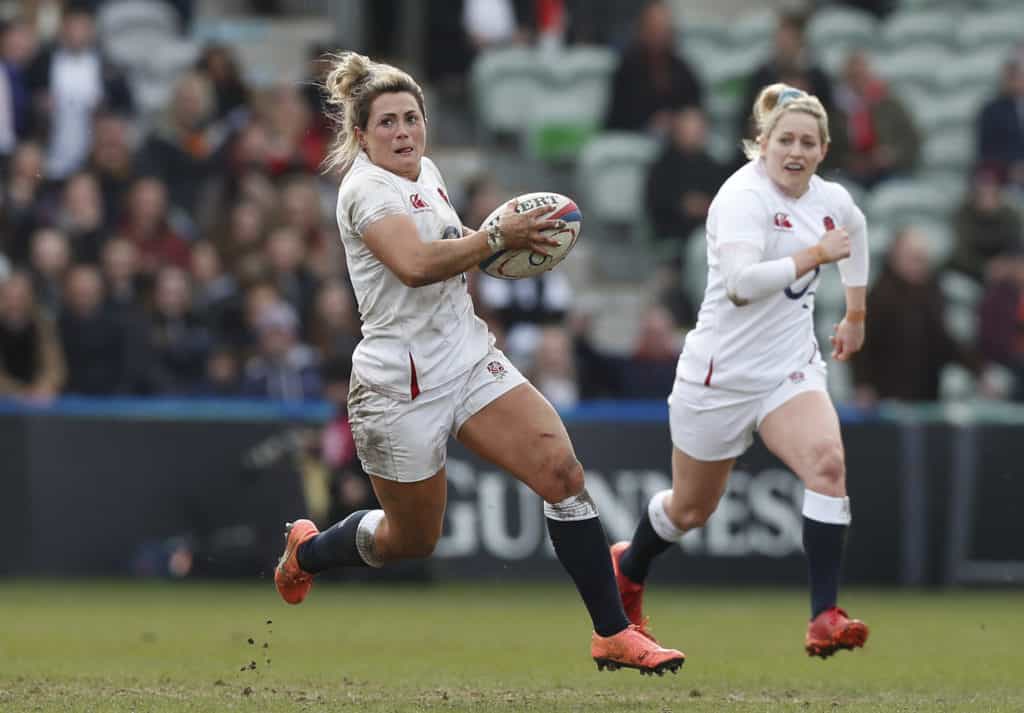 "We can go into Saracens and have those longer IDP sessions that focus on us trying to upskill ourselves along those games at the weekend."
The bonus of playing and training on a weekly basis with fellow England backrower Marlie Packer is not forgotten either, with the differing playing styles of both players complimenting each other on the pitch.
"The fact that we've got Marlie here at Sarries and we can kind of play left and right rather than playing six or seven, we get to share the workload a bit then and we're actually quite different players.
"So, it's nice that I've been able to show what I can bring to the shirt, cause I'm a very different player to her."
And while it has probably taken her longer than she would have liked, Fleetwood knows she can look back on this season feeling positive about her development in the backrow.
And at the same time, she also believes that there is still more to come as she gets more games under her belt.
"I think I'm only really just starting to find my form in that position, and having had those games back to back, being able to play, has done wonders for my confidence.
"To know that I wanted to make my mark in that position as well, I kind of feel like I've done that."