Evans pleased to get back on pitch after shoulder injury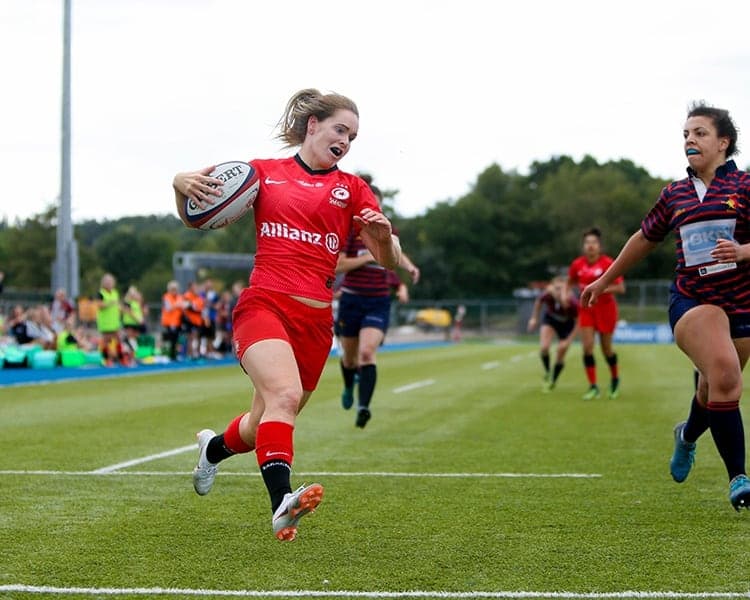 Saracens Women's Katharine 'Kat' Evans made her return to the pitch in Sunday's 88-0 pre-season win over Trojan Ladies at Allianz Park.
Safe to say it was an eagerly awaited run out.
"It was absolutely amazing; it was so nice to run out at Allianz Park again," she said.
"Just super pleased to get back on the pitch and put a few hits in, make a few runs and get back to playing rugby really."
Evans was making her playing return after five months out with a shoulder injury and while the experienced forward had some nerves, she was confident in her rehab and pre-season work.
"I worked hard in my rehab for my shoulder and I trained extremely hard in pre-season just to make sure I was still in contention for a shirt."
On top of focusing on getting back fit, Evans also had to get used to playing alongside a number of new faces.
"It's a little nerve-wracking obviously when new people come in, you're like 'Oh, where do I fit into this squad now?' but it was nice to see how everyone's work together in pre-season actually comes off on the pitch."
Sunday's match at the Summer Gathering was also the first time that a Saracens team got the chance to run out in the new kit, with players having the opportunity to wear both the home and away kit.
"Yeah, it's always nice to try out the new kit in a match for the first time!" Evans added.
"Great for the new players to get their first game in Sarries colours too. A nice physical game and a good way to start the season."
Saracens Women will be back at Allianz Park on Sunday 29th September as they take on Richmond FC in their first home game of the 2019/20 Tyrrells Premier 15s season. Make sure you get your tickets HERE.