MATCH REACTION | Alex Austerberry (AP15s Rd18)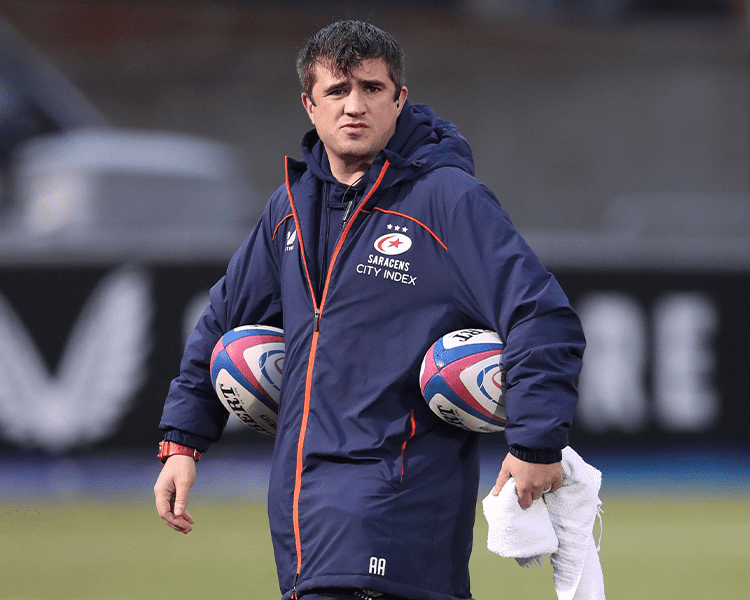 Saracens Women secured a win on the road, but results elsewhere mean that they will face a trip to Sandy Park in next weekend's semi-finals.
Reflecting on the win at Sandy Park, Director of Rugby Alex Austerberry felt that it was a mixed bag from his side at Franklin's Gardens.
"I thought we played some outstanding bits of rugby at times. That score at the end of the first half was crucial and we started the second half really well. Saying that, I thought we were sloppy at the breakdown, and we made too many errors. Ultimately though, we've come away from home against a decent Loughborough side and taken five points."
Heading into this one, Saracens knew they would be facing Exeter in the semi-finals, but the Devonians victory means that Austerberry's side will make the trip to Sandy Park.
The DoR felt that there were some tweaks his side could make, but believed they are in a good place heading into next weekend's semi-final.
"There are lots of positives, but we have to have some quick learnings. They won't be big fixes, but there are a few little tweaks we can make going into next week. We knew who we were facing already heading into this week. The preparation has already been building and some of the things we want to try and do we've put in place. There are some other bits that we ultimately haven't shown today that we'll be ready to show next week."
Matchups between Saracens and Exeter have always been full-blooded contests. Austerberry challenged his side to tidy up their breakdown work and felt that the collision zone will be the point of difference heading into the match.
"We know it's going to be a physical test. You need to be right up on the gain-line and stop their big ball carriers, otherwise it's always going to be a tough day at the office.
We need to be cleaner at the breakdown, but I'm sure the officials will be looking at that as a highly contested area. We need to win the collisions and that will be the big test next weekend."
After a somewhat turbulent start to the season, Saracens have been in superb form throughout 2023. Austerberry believes that his side are heading into the play-offs with momentum on their side and hoped his side could take inspiration from what the men's side achieved at Twickenham last weekend.
"The table in December doesn't really mean anything. The media got a bit excited about it, but since Christmas, we've been on a really good run. The momentum going into the semi-finals has been great, but to win this league, you need to perform week in, week out. When it comes to knockout rugby, you need to be at your best. Winning next week would mean the world and we can take a bit of inspiration from the men like they did with us last season."