MATCH REPORT | Saracens Mavericks 54-57 Team Bath (NSL Rd18)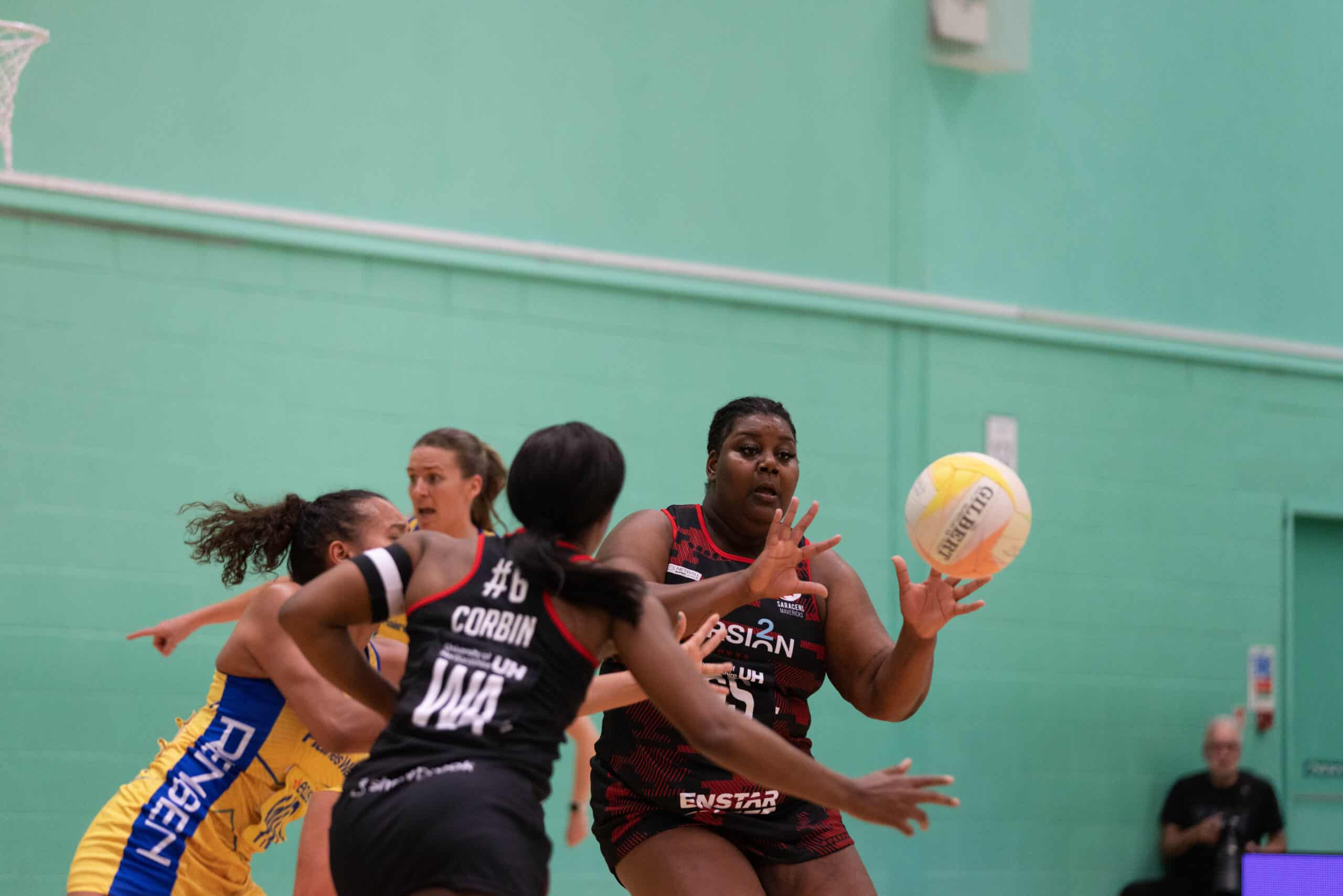 There was to be no fairytale ending for retiring captain Sasha Corbin, as Mavericks suffered a narrow home defeat to a much-improved Team Bath.
The script had been penned (in black and red ink) for Saracens Mavericks to win not only their final home game of the 2023 Netball Super League but to do so in a style befitting Sasha Corbin's final home game before her retirement. However, sport doesn't respect neat-and-tidy scripts and the home side ran out of time in this closer-than-close contest against an in-form Team Bath.
Head Coach Camilla Buchanan lamented unforced errors from her side as they lost to a team they'd narrowly beaten on the road in March:
"Bath were a lot more clinical today and they starved us of ball…we were tested on our variety, we were tested on our finish."
Mavericks started this fifth v ninth match-up with a familiar seven and claimed an early advantage. Team Bath, however, found a way to level the scoring and went into the first break with a 1-goal lead.
The story of one team gaining a narrow advantage, then the other team responding, was repeated in the second quarter and, indeed, the entire match. The visitors made a couple of substitutions in that second quarter, including bringing on Sasha Corbin's sister, and former teammate, Kadeen.
Saracens Mavericks being stronger in the second half, is something that the loyal home fans have come to expect this season at HSV. However, Team Bath have a quality squad with some stand-out contributors, including Player of the Match Ali Wilshier. The visitors were in no mind to ease up in the second half.
Jodie Gibson and Lisa Mather both came off the bench to help their team gain the upper hand, but as the whistle blew at the end of the third, Bath were one ahead in this nail-biter.
Sasha's side competed in the final quarter, with Supporters' Player of the Year Kira Rothwell giving her all at one end and Play of the Year star Razia Quashie matching that effort at the other. Unfortunately, on this occasion, it just wasn't quite enough, as Team Bath managed to hold on.
Club legend and captain of ten years, Sasha Corbin, admitted to feeling disappointed with the result:
"I am emotional but I'm also quite disappointed with the loss."
Despite the result, Corbin won't have been disappointed with the send-off she received, as she was love-bombed with balloons, T-shirts, speeches, messages and cheers…lots of cheers.
Whilst the result wasn't what she would have hoped for, this was a fitting tribute to Corbin's incredible career.
Let's hope the sting from this final round 18 match fires up Sasha and her teammates for their remaining two matches, against top four finishers Manchester Thunder and London Pulse.
Report by Erica Rosa Tapp.