MATCH REPORT | Saracens Women 29-22 Exeter Chiefs (AP15s Rd15)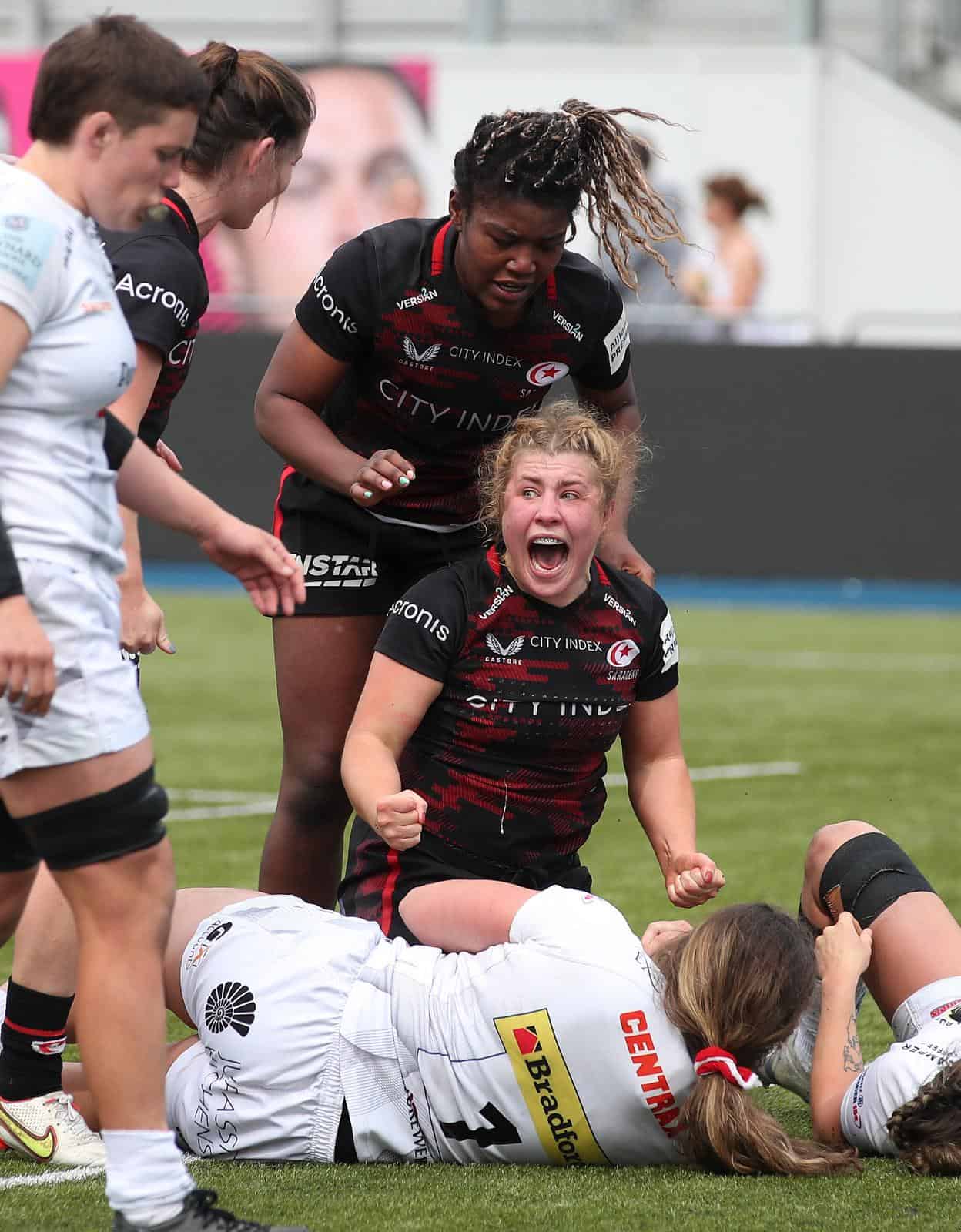 Saracens Women made sure it was a perfect weekend for the club, as they secured a bonus point victory over Exeter Chiefs.
On Eurovision weekend, it was Saracens who were hitting all the right notes at StoneX, to keep up the charge for a top two spot.
In truth, this was a somewhat of a scrappy affair, with both sides showing signs of rustiness on their first league outing in over two months.
If there was some rustiness in the hands, there certainly wasn't in the scrum, as Hannah Botterman made her presence felt on her return.
Scrum penalty after scrum penalty followed for Sarries, as they churned their way through the Exeter scrum.
Handling though, was letting Saracens down at the key moments, as any attacking opportunity was snuffed out by a lack of care on the final pass.
With nearly a quarter of the match gone, the scrummaging disparity finally told, as Hope Rogers saw yellow for repeated infringements.
From there, it was one-way traffic, as Botterman marked her return with a stunning solo score.
Off the back of a scrappy maul, the prop did what she does best, barrelling through several would-be tacklers to open her team's account.
Saracens were really motoring now, and they had a second of the afternoon soon after. From a searing break from Holly Aitchison, Lotte Clapp was on hand, to pick a delicious line and canter through for a stunning score.
Saracens were still dominating the set-piece, as Exeter looked to hunt for a way back into the match.
In the end, they found it off of a fortuitous bounce of the ball, that allowed Kate Zackary to muscle over out wide. Whilst Zackary finished well, Saracens were left rueing their luck.
The game was into a bit of a lull now, but it sparked back into life thanks to a stunning turn of pace from Sydney Gregson, to get the crowd back on their feet.
Exeter were struggling to keep up with the pace being put on the ball by Alex Austerberry's side and the pressure eventually told, as Jess Breach fed Coreen Grant to dive over out wide.
The half wasn't yet done though, as Exeter pounced on a Saracens error in midfield, to allow DaLeaka Menin to race away on the stroke of half-time.
Saracens though, were not to be deterred and they started the second half with a renewed zip to their play.
Barley two minutes were on the clock, when May Campbell powered over for the bonus-point score, with Holly Aitchison adding the extras.
It was vintage Sarries at this point, as they continued to open up holes in the Exeter defence.
The pressure told again on the fifty-minute mark, as Sarah McKenna pounced in the corner.
From there though, the performance began to plateau, as Exeter fought their way back into the match.
With little under ten minutes to go, Katie Buchanan raced over out wide to give her side hope of starting a fightback.
Panic was beginning to set in now, as Flo Robinson was denied a score in the corner by Jess Breach, with Exeter continuing to apply the pressure.
When Sarries needed it most though, their scrum came to their rescue again, allowing Aitchison to clear the lines.
Time was ticking away into the red, but there was still time for one last score, as Maisy Allen grabbed a fourth try for the visitors to ensure that they left StoneX with two bonus points.
This was by no means a complete performance from Saracens. But it did breathe new life into the chase for a top two finish, with Saracens knowing that they still have an outside shot.
There will still be work-ons heading into Worcester, but Saracens will be confident, having extended their unbeaten run in the league to nine games.