Nick Isiekwe's incredible story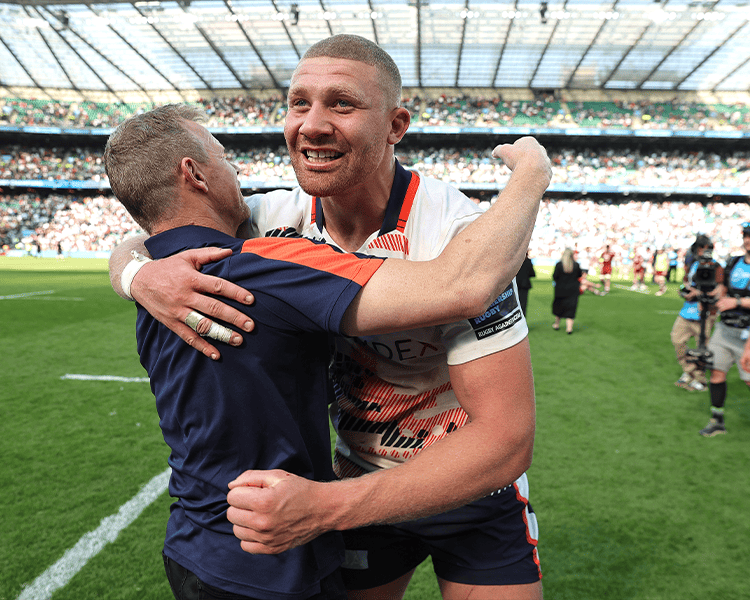 Nick Isiekwe would love nothing more than to be in the England squad, pushing his case for World Cup selection.
In many ways, he was one of those dealt the harshest of cards: an outstanding run with Saracens to the Gallagher Premiership title limited his training opportunities with England and by the time he was available to join the camp, other players had stolen a march on him for that versatile role of lock and blind-side flanker.
But life has a way of putting these disappointments into perspective. That Isiekwe was able to represent England in the Six Nations and finish the season as a champion, having played a defining role for Saracens in their Premiership final victory over Sale Sharks, was remarkable.
The aorta is the major blood vessel carrying high-pressure oxygenated blood from the heart. Isiekwe's had swollen dangerously. It should have been no wider than 3.8cm. It had reached 5cm.
Fearful it would rupture with potentially catastrophic consequences, Saracens stopped him training. Isiekwe faced the end of his career at the age of 24. The conventional operation would have been to replace the dilated aorta and insert a rigid tube graft. No surgeon would sign off a rugby player to continue his professional career in those circumstances.
"It was a scary time," Isiekwe says. "There was a real sense of, 'This problem is real. This problem is big.'
But Isiekwe was fortunate. His case was referred to Conal Austin, a cardiothoracic surgeon at Guys and St Thomas' Hospital in London and a world-leading expert in a ground-breaking procedure that has returned Isiekwe to full health and saved his career.
"The gratitude I have for this man is incredible," Isiekwe says. "We play sport and people like to watch but it is guys like Conal Austin who save people's lives. They are the real heroes. The things these guys can do is mind-blowing."
The procedure performed by Austin — personalised external aortic root support (Pears) — is not yet approved by the FDA in the United States but it has been used in more than 840 people in the world since it was invented 19 years ago.
Isiekwe is believed to be the first professional athlete to return to sustained elite contact sport after surgery for a dilated aorta. He was back playing for Saracens before Christmas, within four months of having his breastbone split open.
"I was astonished," Austin says. "I tell my surgical colleagues all around the world about this. They say that to return to elite level contact sport so soon after major cardiac surgery and to represent England was unique."
The issue in Isiekwe's heart was first picked up after Covid had left him feeling mildly breathless and an MRI scan looking at his lung function identified the dilated aorta. In August last year, Saracens stood him down.
Isiekwe visited a number of specialists, including Dr Maria Tome Esteban, a cardiologist and geneticist who happens to work with Austin on the Pears operations. She immediately made the referral. Of those 840 Pears operations, Austin, who trained at the University of Belfast, has conducted or proctored more than 300.
"Fate was on Nick's side that he went to see Maria," he says. "If he was an NFL player or a person from around the world, it would have been a career-ending conventional operation.
"When Nick came to see me last summer, he said, 'Get me fixed, I have to play for England at the next World Cup.' I said, 'You can always go for the one after because Ireland are going to win this one.' "
They laughed and it broke the ice. But Isiekwe left that appointment with his head in a spin after Austin had outlined what the operation would involve. A 3D model of his aorta would be created and a bespoke synthetic mesh would be developed and placed tightly over the aorta during open heart surgery.
Isiekwe's blood pressure would be dramatically lowered but, unlike conventional surgery, there would be no need to stop his heart and attach him to a heart-and-lung bypass machine.
"That is one of the ways it is revolutionary," Isiekwe says. "We spoke in a lot of detail about the surgery. It was quite daunting and it took me a few days. The way he was optimistic that I would not only be back healthy but be back playing rugby was incredible."
"The first moment I genuinely feared for what was going on was on the table when they put you under because that is when it is real and you are about to go through for a major operation. Before that, the determination I had got me through."
Isiekwe was woken in theatre and then wheeled through to ICU. "I remember I woke up and I was incredibly hungry. I asked the nurse, 'Please can I get some food? Any food will do.' She brought me mashed potatoes and scrambled eggs. I had never been so hungry in my life and I ate it quick, quick, quick," he says. "Then I got the hiccups and I was in the worst pain I have ever experienced in my entire life because my chest had just been opened up. I won't do that again.
"Coming out the other side of the operation, it gives you a different appreciation for life, for being here, for being able to hold your children. You don't want to take those things for granted.
"I want to maximise the athletic potential that I have. That has definitely been a big flip. I don't know if that is because of the surgery or becoming a father."
Isiekwe was home after four days and within two weeks Austin was contacted by Saracens asking what exercises he could do because he was "climbing the walls". There was no text book for how to return to rugby from a heart operation but Isiekwe hit every fitness goal quickly.
He played his first game of the season against London Irish shortly before Christmas and then invited Austin to watch Saracens play Exeter Chiefs on New Year's Eve. Within two months, he was in England's Six Nations squad and by the Premiership play-offs in May, Isiekwe was one of Saracens' most important players. Nobody in the final at Twickenham made more tackles.
"It is globally unprecedented," Austin says. "Nick Isiekwe has changed my perception on how to counsel my patients in accelerated cardiac surgery recovery. He is one incredibly determined athlete."
In the end, Isiekwe did not make the World Cup squad. It was a crushing disappointment. But in achieving a medical world first he can now look forward to a future where Cassius grows up watching him play rugby for Saracens — and England again, no doubt.
"Cassius helped me massively through the rehab," Isiekwe says. "That is why I have an overwhelming sense of gratitude to be able to continue playing rugby and supporting the family who supported me through a tough time. Conal Austin is doing unbelievable work which hasn't had enough attention. It's revolutionary. I honestly can't thank him enough."

Nick was talking exclusively to Alex Lowe from The Times.