Saracens players get a taste of wheelchair rugby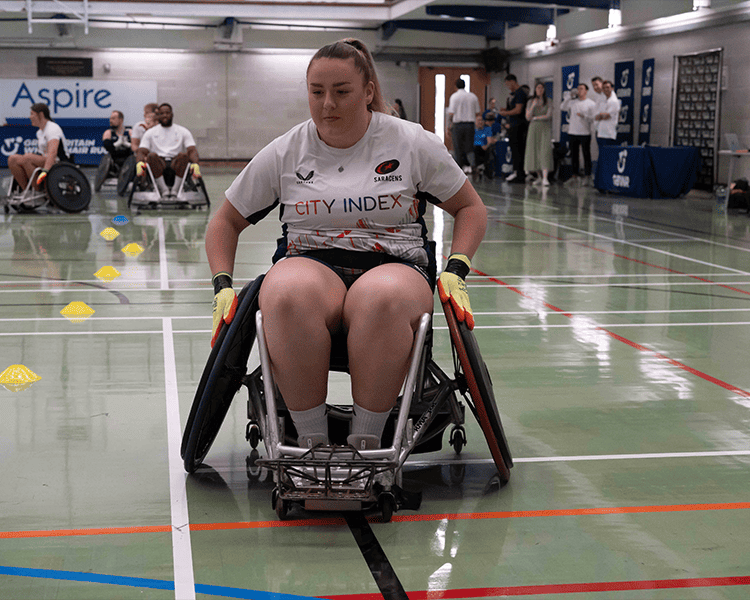 Saracens players Hugh Tizard, Kelsey Clifford and Louise McMillan took part in a wheelchair rugby training session with Great Britain Wheelchair Rugby (GBWR) athletes and sport pundit and broadcaster Jermaine Jenas to promote the fast-growing Paralympic sport.
With only a year to go until the Paralympics in Paris, our players were taught the rules of wheelchair rugby by some of Great Britain's greatest athletes including Ollie Mangion, George Rogers, and Dave Ross, as well as Tokyo gold medal winners Aaron Phipps and Kylie Grimes, and gold medal winner at the 2023 Women's Cup, Imogen Steele.
The session took place at the Aspire National Training Centre in Stanmore, providing an opportunity for Hugh, Kelsey and Louise to experience Paralympic sport first-hand, as well as discuss important issues in sport today, including mental health and participation of women in sport. The players also took part in an 'explainer' video to help raise awareness and teach people about wheelchair rugby.
The training event was supported by Socios.com, the leading fan engagement and rewards platform, as part of its community and social impact initiative, Socios.com Supports.
Last year, we announced a new partnership with Socios.com to create the Saracens Fan Token, giving fans access to a variety of rewards and opportunities to engage with the club through polls. Our new West Stand was officially named The 1876 Stand following a vote with Socios.com.