TEAM NEWS | Sale Sharks vs SARACENS WOMEN (AP15S RD5)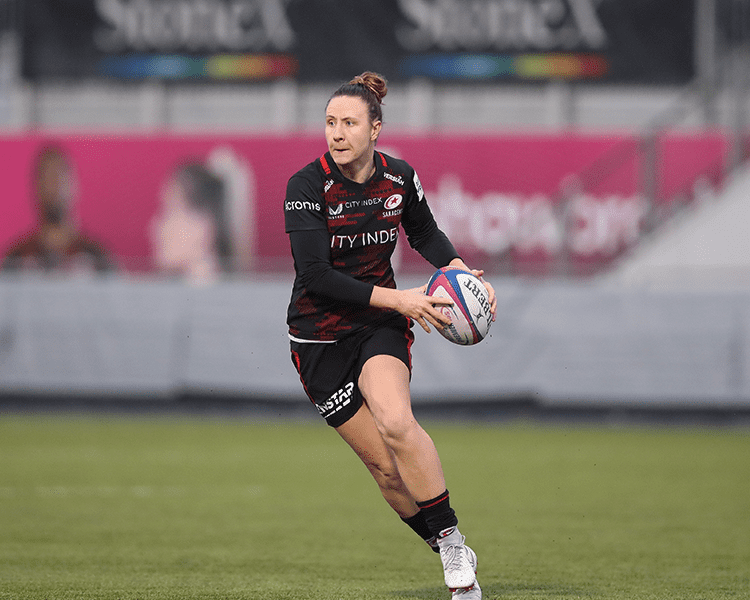 After a frozen pitch put pay to this one before Christmas, Saracens Women know that they can't rest on their laurels, when they make the trip to CorpacQ Stadium tomorrow.
An impressive performance last week against Wasps saw the side rack up over 70 points, but Sarah McKenna explained that she and her teammates still wanted to improve on what they had shown at Twyford Avenue.
"We were happy with the result. It was great to get some tries under our belts and their were some good individual performances. Collectively though, we let the control go in the second half. We need to remain on task now and be outcome driven."
The match against Sale is the third in a row on the road for Alex Austerberry's side and McKenna smiled when explaining that the side have started to now become accustomed to putting in performances on the road.
"We've had quite a few away days and the fact they've all hit at once has been good. With some of the recent away performances under our belts, we're in a strong place heading up to Manchester."
Ahead of this one, Alex Austerberry has made several alterations to his matchday squad.
In the front row, May Campbell and January's Player of the Month Kelsey Clifford return alongside Maya Montiel.
In the second row, Louise McMillan is partnered by Fi McIntosh, whilst the backrow sees the return of Marlie Packer and Georgia Evans to the starting XV, alongside Poppy Cleall.
The halfback and centre pairings remain unchanged, with Ella Wyrwas and Zoe Harrison at scrum half and fly half respectively.
In the centres, McKenna is again joined by Sydney Gregson in the thirteen shirt.
The back three sees one further alteration, with co-captain Lotte Clapp returning on the left wing, alongside Coreen Grant and Jess Breach.
On the bench, Jodie Rettie will be looking to make an impact, following her hattrick last weekend, whilst Mica Gooding and Anna Goddard both return to the matchday squad.
Catha Jacobs, Grace Moore and Cara Wardle will all be looking to make an impact, alongside last weekend's player of the match, Sharifa Kasolo, as Saracens elect for a 6-2 split amongst the replacements.
Saturday will be another opportunity for McKenna to show what she can do in the centres, having impressed in recent weeks, and the England international reflected on the enjoyment she has been getting from playing in a different position.
"I've really enjoyed it. It's been a good challenge and it's been good fun. There have been new challenges in defence in attack, but I've felt like I'm in a really good place to take that shirt and take the advice from everyone around me to play as well as I can in that position."
Saracens Women's Team vs Sale Sharks
1. Maya Montiel
2. May Campbell
3. Kelsey Clifford 
4. Fiona McIntosh 
5. Lou McMillan
6. Georgia Evans
7. Marlie Packer (co-captain)
8. Poppy Cleall
9. Ella Wyrwas 
10. Zoe Harrison
11. Lotte Clapp (co-captain)
12. Sarah McKenna
13. Sydney Gregson
14. Coreen Grant 
15. Jess Breach
Replacements
16. Jodie Rettie 
17. Mica Gooding
18. Alex Ellis 
19. Catha Jacobs
20. Shaz Kasolo 
21. Grace Moore 
22. Anna Goddard 
23. Cara Wardle