TEAM NEWS | WASPS VS SARACENS WOMEN (AP15S RD10)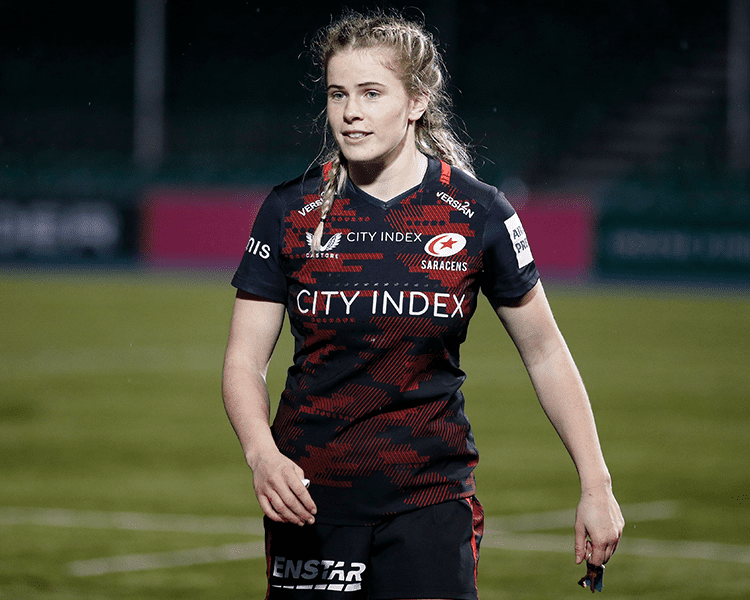 Scrum half Ella Wyrwas has challenged her side to continue to build, heading into Saturday's clash with London rivals Wasps Women.
Saracens start February of the back of three wins from their last four matches, and Wyrwas believes that her side are at a point where they can continue to build momentum heading into the second half of the season.
"Obviously we've had a couple of wins on the bounce now. From a Saracens perspective, we're never completely satisfied. Of course, we want to celebrate the wins, but there is also something to improve upon."
Last weekend against Bristol Bears, Saracens delivered a consummate display, to overwhelm their rivals at Shaftesbury Park. Heading into Saturday's clash, with Wasps, Wyrwas admitted that she was expecting a similarly physical challenge.
"It's a hard place to go. Wasps have had their troubles this season, but week in, week out, they have been stringing together some well-worked tries. It's not going to be an easy ride and we're going to need to focus on ourselves. We need to cut out the unforced errors and be in it for the full eighty as a team."
Ahead of this London Derby, Director of Rugby Alex Austerberry has made several alterations to his side.
In the front row, Maya Montiel makes her debut at loosehead prop, whilst Jodie Rettie starts at hooker on the occasion of her 50th appearance. They are both joined upfront by Alex Ellis.
Louise McMillan continues in the second row, with Catha Jacobs starting alongside the Scottish international.
The backrow sees two alterations, with Irish international Grace Moore and promising openside Sharifa Kasolo, starting alongside Poppy Cleall.
Wyrwas and Zoe Harrison form the halfback pairing, with Harrison captaining the side, whilst the centre pairing of Sarah McKenna and Sydney Gregson remains unchanged.
There is another alteration in the back three as well, with Isla Alejandro starting alongside Coreen Grant and Jess Breach.
On the bench, Mica Evans is set to face her former club alongside Flo Williams. Cara Wardle and Abi Evans both return to the matchday 23, alongside Sonia Green who is poised to make her comeback from injury.
Saturday's match will mark the first time for Saracens that they have faced a side for the second time this season.
Wyrwas admitted that there were both positives and lessons to take from their previous result against Wasps, but felt that both sides were in a very different place to when they met earlier in the season.
"There were a lot of positives to take. Back then, we were a completely different team. We're improving week by week. We've had the time together now as a consistent team but matches like that one are points that we can take a lot of learning from."
Saracens Women's Team vs Wasps Women
Maya Montiel
Jodie Rettie
Alex Ellis
Lou McMillan
Catha Jacobs
Grace Moore
Sharifa Kasolo
Poppy Cleall
Ella Wyrwas
Zoe Harrison (captain)
Isla Alejandro
Sarah McKenna
Sydney Gregson
Coreen Grant
Jess Breach
Replacements
May Campbell
Mica Evans
Kelsey Clifford
Sonia Green
Georgia Evans
Flo Williams
Cara Wardle
Abi Evans