MATCH REPORT | Saracens Mavericks 41-38 Strathclyde Sirens (NSL Rd16)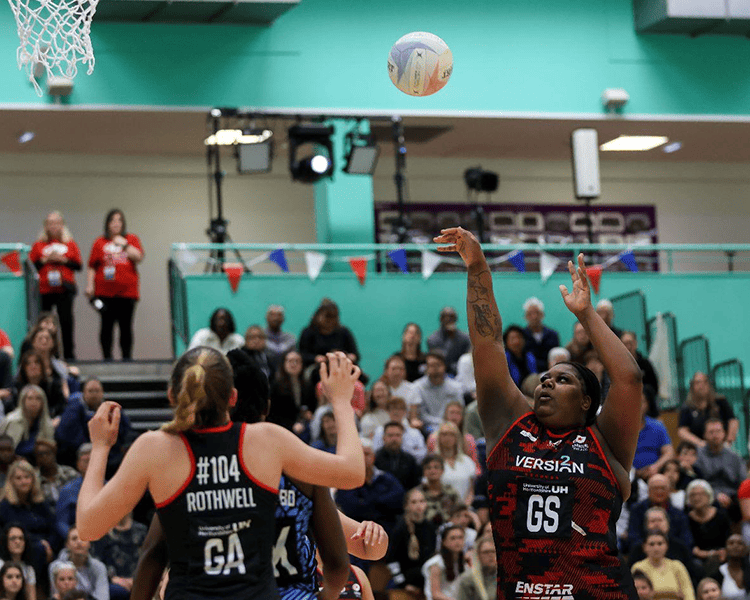 Saracens Mavericks won out in a battle of the defensive pairs at HSV, to silence the Sirens and keep up their faint hopes of a top half finish.
With Razia Quashie at one end and Towers Vinkhumbo at the other, neither team enjoyed an easy route to net. The first quarter was a tactical tussle, with Sirens claiming the advantage after an engrossing opening fifteen.
The fightback from Mavs in quarter two, though, was magnificent! Beth Ecuyer-Dale came on with energy in the mid-court and the visitors also made a couple of changes in an attempt to take control of the tie.
Quashie and defensive partner Monique Meyer were interrupting Sirens' shooting both physically and mentally, as the Scottish team repeatedly struggled to convert. This was another impressive performance from the pair, as they continually broke up play in the defensive third.
Converting opportunities wasn't an issue down the other end for Britney Clarke and Kira Rothwell though, who kept cool heads and healthy scoring percentages. Quarter 2 was where Mavericks laid claim to this game, winning the quarter 12-5 and going into the half time break with a 2-goal lead.
Sirens were in no mind to roll over and give the game away though and fought hard in the third to keep themselves fully in the hunt. However, Mavs showed maturity that has been coming throughout the season, as they patiently worked the ball around, looking for a way through.
Georgia Lees came on in place of captain Sasha Corbin, who had led her team regally. With the added injection of pace from Lees, Mavericks extended their lead to five, to set up a tense final quarter for the vocal crowd in Hatfield.
Watching Mavericks though, is rarely an easy ride! The last fifteen minutes turned into both an absorbing and tension-filled quarter, where it looked like the win could go either way.
Mavericks looked to be in control but, with only minutes to play, Sirens came within one goal of the home side, to add a huge element of tension.
Mavericks, however, held their nerve and even enjoyed a final goal on the buzzer, to claim the victory. Head Coach Camilla Buchanan's team won by three and also added three points to their table climbing tally, to send the home crowd away happy after a right royal thriller at HSV.